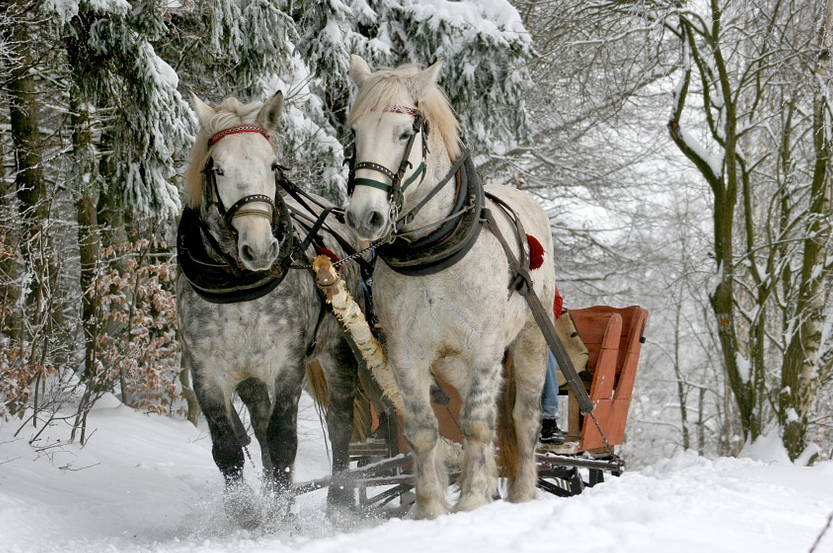 Looking for easy Christmas songs to play on guitar? Jingle Bells is probably your first port of call. With just three simple chords, no wonder it's "one of the best-known American Christmas songs." 
Being so beloved, it's always been one of our go-to Christmas songs on guitar. But, it wasn't until recently that we found out the strange story behind the creation of Jingle Bells.
It's a tale of drunk driving, drag racing, and deadbeat dads… and it's nothing you expected from this Christmas classic! So, without further ado, let's dive in by debunking a commonly held assumption…
It's Not Actually a Christmas Song:
Jingle Bells is a quintessential Christmas classic. But it might surprise you to know that it's not actually a Christmas song at all.
Originally, author James Pierpont – who was a church music director – wrote it for the congregation to perform at a Thanksgiving service in 1850. But, it was so popular with the parishioners that they performed it again at Christmas, forever cementing the associations with the song and the holiday season.
It's About Drunk Driving:
The song isn't perhaps as festive as you first thought, though. Apparently, it was inspired by the drag races that occurred in Medford, MA, where Pierpont lived. As Medford historical society vice president Kyna Hamill notes:
"Medford is home to a series of sleigh races that used to occur on a street called Salem Street, and because of this event, which pretty much happened in the middle of the 19th century, these sleigh races — which you could pretty much call drag races  — down this street was one of the most popular events. Because of that, the influence and inspiration of the song, we believe came from those races."
Not only that, its likely that said drag race participants were out of their minds on booze, given the main local industry:
"If you think about the fact that one of the great industries of Medford was rum-making, and if you really think about the lyrics of the song, with the lens that these are drag races that are happening at top speed down the center of this street, one of the suggestions is that it's actually a drinking song."
A Deadbeat Dad Wrote It:
Given that James Pierpont was a church music director, you'd expect him to be an on-the-level sort of guy. In reality though, it was a different story. As Hamill notes:
"He's kind of a jerk, actually. He would leave all of the time. He went out west to try to make his way with the gold rush and left his wife with his father."
When his wife died, he remarried, and abandoned his kids. As Hamill states, he didn't even pay his respects to the recently deceased:
"He didn't come, apparently, to his first wife's funeral. He's sort of not a nice guy."
It Wasn't Originally Called "Jingle Bells":
When it was first published in the early 1850s, Jingle Bells went under the infinitely less catchy title of One Horse Open Sleigh.
It wasn't until it was reprinted in 1859 that "Jingle Bells" was added, with the now-convoluted title reading "Jingle Bells, or the One Horse Open Sleigh." For obvious reasons, most people just referred to it as "Jingle Bells," and the shortened title eventually stuck.
Did you know the story of Jingle Bells? What songs will you be playing on guitar this Christmas? Share your stories in the comments!