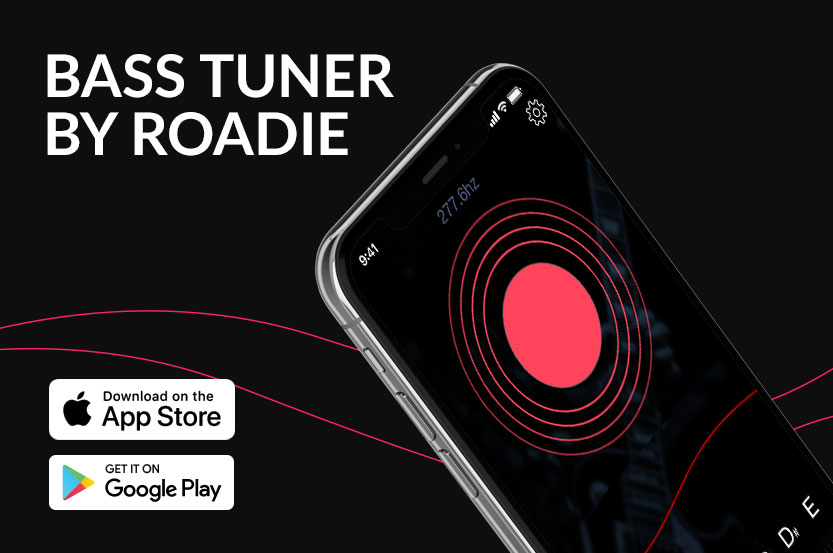 If you don't know about Bass Tuner by Roadie, then you have got to check this app out.
It's a simple chromatic tuner that is built for all instruments and is optimized to detect lower frequencies, making it ideal for bass guitars, upright bass, cello, as well as electric, acoustic and classical guitars.
Basically, it's a must-have for any musician and it's free!
To understand how Bass Tuner by Roadie stands out, it is important to touch on some basic information:
What Are Chromatic Tuners Anyway?
Chromatic Tuners are electronic hardware or software used to detect and display the pitch of notes that are played on musical instruments.
Non-chromatic tuners are typically designed to detect specific notes and tuning schemes that are most common, such as standard tuning (EADGBE). On the other hand, chromatic tuners can detect all twelve notes of the chromatic scale.
As such, they provide musicians with wider flexibility when tuning and are far more versatile. They also read different pitches in all of the different octave ranges.
However, it is inevitable that chromatic tuners may sometimes be unable to detect extreme frequencies that are essential for some instruments. An example is the bass guitar, for low frequencies, and the violin, for high frequencies.
About Bass Tuner by Roadie
The app was developed by the same team of expert musicians who created the revolutionary Roadie Automatic Guitar Tuners, and who specializes in tuning technology.
What makes Bass Tuner by Roadie stand out is its ability to detect low frequencies, making it the perfect tuner for bass guitars, upright bass, and cello. The app detects a frequency range of 25Hz to 2200Hz and has a precision of up to 1 cent, 0.1Hz.
How it Works
Bass Tuner by Roadie is built to be highly accurate and responsive. Its beautiful and intuitive interface makes tuning a breeze.
It is very easy to use, and here's a short demo video to prove it:
New Tone Generator Feature
In case you are looking for a simple tone generator, look no further. Bass Tuner by Roadie now comes with a very simple built-in tone generator.
New Alternate Tunings Available
Want to switch to drop D, open C or half step down? No problem. Bass Tuner by Roadie now gives you access to more than 40 alternate tunings for different instruments, all for only $4.99.
New Customizable Settings
With our latest update, you can now change the reference pitch to your liking. You can also adjust the microphone's sensitivity to capture your instrument's sound perfectly.

Available on iOS & Android
To All Android Users:
We are super excited to announce that Bass Tuner by Roadie is now also available on Google Play! The tone generator and alternate tunings are not yet available to Android users, but we're working on it… Stay tuned!
To iOS Users:
Update your app to get the latest features!