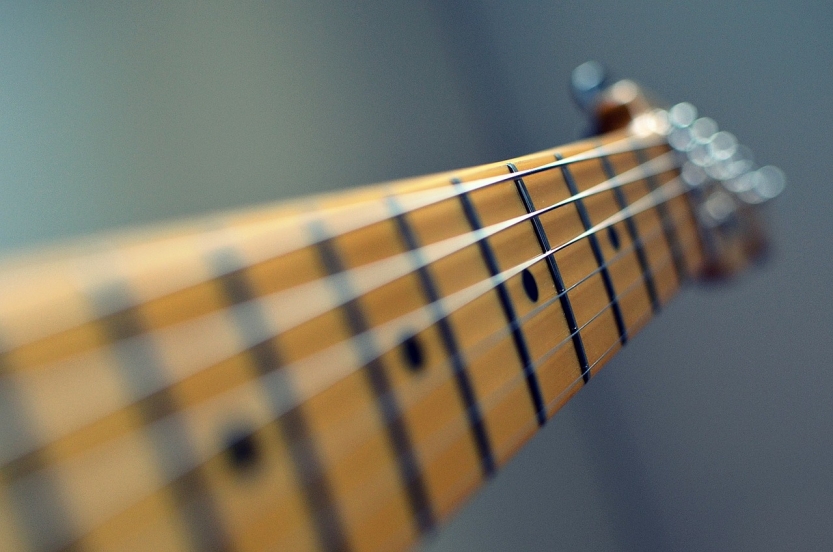 Why should you care about the kind of wood used for your fretboard when everyone knows that the body is what really matters? Don't be so shallow with your one-track mind – it's not all about the body. The devil is in the detail, you see, and while the wood type of the body and neck does have the most impact on your guitar's sound, the fretboard can definitely make a difference. Whether you're looking to buy a new guitar or customizing your existing one, here's what you need to know about the fretboard wood.
Not only will picking the right wood for your fretboard impact on the all-important aesthetics (gotta feed that ego!), but it will also make a difference when it comes to the feel of your guitar – and music is all about the feels. As described in my previous article on ukuleles, you'll probably come across a multitude of wood-types incorporated into custom made guitars – but for now, we'll focus on the three main types. Here is a Beginner's Guide to Fretboards:
Rosewood Fretboards
If you don't know what to go for at all, a safe bet is the classic rosewood. It's the most common of the three common types of wood, and there's a good reason for that. It's oily nature absorbs any unwanted overtones, as opposed to other types of wood that may amplify them. This makes it especially good for beginners. As a bonus, this type of wood doesn't require a finish due to it being oily. The rosewood will make your guitar produce a warmer sound without too much high-end, which can be a good or bad thing – depending on your taste. The downside, of course, is that if you're looking for a more crisp sound, there are other types of wood that will serve you better.
Maple Fretboards
Maple is the wood of choice for a lot of Fender players. In terms of sound, maple falls somewhere in between rosewood and ebony. It's has a brighter and more well-defined tone than rosewood, but is still warmer and not as crisp as ebony. A word of advice for using maple, however. As opposed to rosewood and ebony, you'll have to give it a finish. The finish you go for depends on your hand hygiene. Just kidding. Or am I? A glossy finish will feel sticky, so perhaps a satin finish will work better for most types of fingers. Although maple does look bright and pretty, oil from your fingers will eventually put an end to that. It's a bit like wearing white sneakers: it will start to look dirty faster than darker woods.
Ebony Fretboards
Ebony – and nylon strings – living in perfect harmony. Although darkest in colour, this one is the brightest of the bunch. Don't worry, you won't be outsmarted by a piece of wood. It just has a lot more high-end than rosewood and maple, which makes it cut through a lot more than the other two types. The slick dark look also makes it ideal for metal players averse to being cheered up by bright colours in case it makes them sound less angry. Because ebony is tight and oily, it won't need a finish, unlike maple, and you don't have to worry about grime from your fingers making it look dirty. You should still wash your hands, though.
Brave enough to do it yourself?
Replacing a fretboard is not for beginners, so unless you're experienced, your best bet is to send your axe to a pro and have them replace it for you. However, if you're experienced (or brave) here's a video that shows you how to do it:
What do you think of our Beginner's Guide to Fretboards? Let us know down in the comments below!