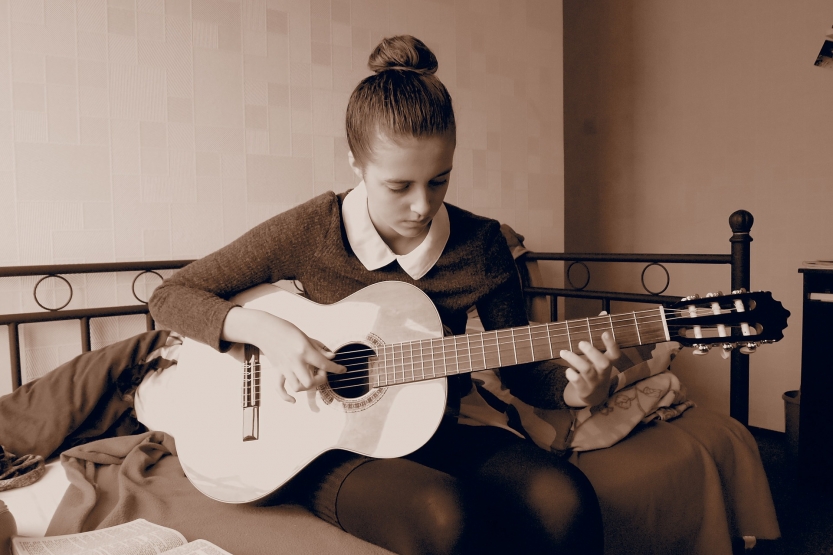 They don't make 'em like they used to. No, I'm not talking about rock stars, although now that I think of it – it goes for rock stars too. Call me old-school, but Taylor Swift just doesn't cut it for me. To quote a screaming Bill Hicks: "I want my rock stars dead!" But let's not reminisce too much on the past. Let's look at what the past is worth in the present.
This is a list of Most Expensive Vintage Guitars, but not just any ol' axes. I've picked these guitars not just because they're classic, but also because they're ridiculously expensive. As in they have the kind of price tag where you seriously start considering if you'd rather buy a car or a house. We're talking $200,000-$400,000. That is, if you find anyone willing to part with theirs. And boy would we love to tune one or all of those with a Roadie 3!
Let's start cheap, shall we? For just $200,000-$250,000, this classic Flying V can be yours. Like most trendy tools that have stood the test of time, the Flying V was actually ahead of its time. No one cared for the iconic design back in the 50's. As a matter of fact, it didn't even make it into the 60's because Gibson stopped production after they only managed to sell 98 of them in two years. Then the 70's came around, and I think you know the rest…
Another Gibson classic, only slightly more expensive than the Flying V (clocking in at $250,000-$310,000), the Explorer fared pretty much the same way as it's V-shaped counterpart: no one cared, so few were sold. It had to wait around another decade for a guy named Eric Clapton to come along and make it famous. Maybe Mr. Clapton using it was what the Explorer needed to take off, or maybe it was Gibson's clever marketing trick of re-branding the African Limba it was made of into Korina. Regardless of what did the trick, it made all the difference.
Before Gibson found out that making really unpopular guitars could drive up the price further down the line, Martin had already figured out this nifty little trick. Since they only made ten or so of these bad boys every year, they are incredibly rare to come across. For that reason, you get to pay $265,000-$350,000 for the pleasure of playing the strings of an OM-45. If you're lucky enough to get your hands on a deluxe version, you better also get some insurance as they're the priciest.
The late 50's were not kind to Gibson. A third model was their now household model Les Paul. This one had a fancy finish, but people still stuck their noses up at it. One man who didn't stick his nose up was (you guessed it) Eric Clapton, who popularized it along with John Mayall and Michael Bloomfield in the late 60's. These days, of course, everyone pretends that they liked it from the beginning, and how $225,000-$375,000 is a small price to pay for such a fine instrument.
Finally, we have the winner. A quarter mill is the least you get to part with for the steel-stringed acoustic Martin D-45. It was expensive back in the day, and boy is it even more expensive today. If you've got a spare $400,000 you can get yourself the cream of the crop – but if you have that kind of money you'll probably be playing it on your luxury yacht cruising around your private island.
Now that you're familiar with our list of most expensive vintage guitars, check out our article on The 10 Most Expensive Guitars Ever Sold for another jaw-dropping read.
As an Amazon Associate, we earn from qualifying purchases. However, this list is curated by our team and we only recommend products we truly believe are the best and might use ourselves.