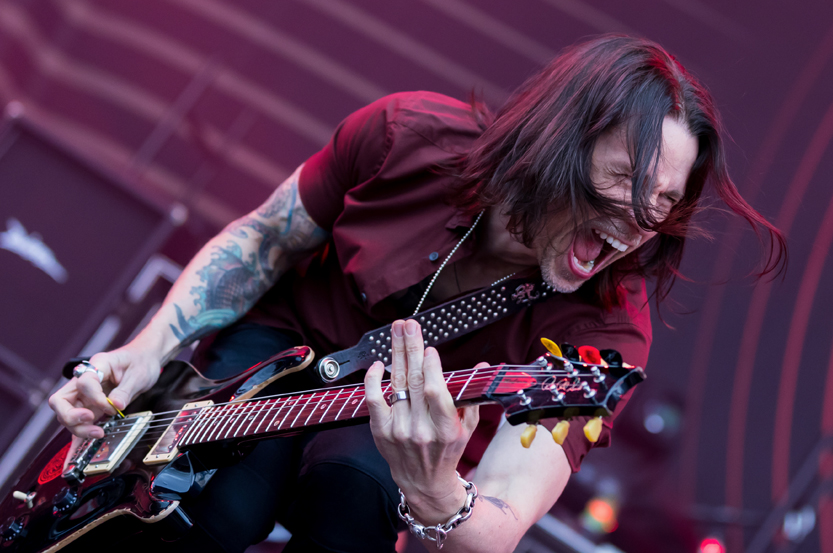 We're huge fans of Alter Bridge guitarist Mark Tremonti here at Roadie. Not just because of his prolific use of alternate tunings (for more on Tremonti's tuning choices, check out this previous blog post about alternate tunings), but because he's one of the most inventive and interesting hard rock guitarists out there today.
To hear this, you only need to listen to the band's monolithic 2013 studio album  "Fortress" and its lead single "Addicted to Pain."
The Single
Now, the band has released a new take on that song, recorded live with the Parallax Orchestra. It's the first single from their upcoming live album, "Live at the Albert Hall" (due in September 7th via Napalm Records), and – whether you're a Tremonti devotee or not – it's definitely worth checking out.
The merging of rock and symphony is nothing new – see Metallica's "S&M" or Kiss's "Alive IV" – but the results often vary. The trick is finding an orchestra that is sympathetic to the needs of a rock song, as well as a band whose music warrants a symphonic scope.
Fortunately, Alter Bridge has found a worthy foil in Parallax, who embellish "Addicted to Pain" in interesting, yet totally complimentary ways. Their arrangement breathes new life into the song, offering a fresh take but not diluting what made the original itself so impacting.
Case in point, listen to how the majestic strings in the half time mid-section interplay with Myles Kennedy's sweeping vocals – it's stirring stuff.
Alter Bridge, The Band
As for the band themselves, they're on fire here. At this stage in their career – with almost 15 years and five studio albums under their belt – you'd expect nothing less. Scott Phillips and Brian Marshall are unrelentingly tight, proving themselves as one of the strongest rhythm sections in rock right now.
Myles Kennedy cements his reputation as the vocalist of his generation – it's no wonder he was considered for the Zeppelin gig. His seriously underrated panache as a guitarist is also in full effect on this one.
And then, of course, there's the mighty Tremonti. A modern-day riffmaster, it's his gnarly, beastly chug that anchors the tune and his soaring leads that kick it into the stratosphere.
Guitarists live and die by their live proficiency; it's one thing to pull it off in the studio, but another thing entirely onstage. Tremonti – like the rest of his AB compatriots – is a consummate and seasoned professional. That prowess is on full display here and it's totally inspiring to listen to.
Conclusion
If "Addicted to Pain" sets the stage for "Live at the Royal Albert Hall," the record is shaping up to be a stunner. For Alter Bridge fans, September can't come soon enough!