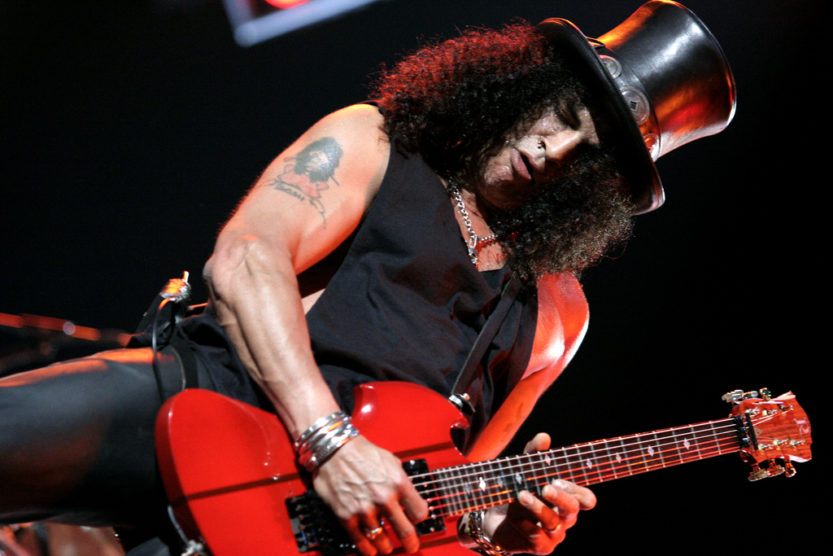 Drop D tuning is an awesome tool. If you want to write a guitar riff with heaviness, heft and grit, it's great to have it in your tuning arsenal. The pros know it too! Some of the greatest riffs in hard rock and metal have been written in drop D – just ask Eddie Van Halen, Slash and Jimmy Page.
Today, we're running through three of our favorites. If meaty riffing is your bag, then you need to check these out!
Van Halen – "Unchained"
"Unchained," from Van Halen's 1981 "Fair Warning" album, is really the song that brought drop D tuning to the masses. It's heavy, meaty, and influenced a generation of hard rockers and metallers to come. If you ever wondered where the likes of Dimebag Darrell, Tom Morello and Kurt Cobain got that tuning from, now you know. It was Eddie that started it all!
"'Unchained', from the 1981 album 'Fair Warning', is typical Van Halen: staggeringly inventive hard rock, with Eddie van Halen performing that trick of switching from lead to rhythm guitar seamlessly, and a Roth lyric that makes no sense on the page, but on record celebrates mindlessness with a glorious lack of ambiguity."
– Michael Hann, The Guardian
Rage Against the Machine – "Killing in the Name"
"I was giving a guitar lesson about drop-D tuning. And in the midst of demonstrating that tuning, a couple of the riffs from 'Killing in the Name' occurred. They sort of spontaneously combusted on my fingers. I had my little RadioShack $20 recording device, so I stopped the lesson and just recorded those and brought it into rehearsal. Timmy C. contributed that kind of off-kilter riff at the beginning, and Brad, that beat, and there are Zack's fiery lyrics. We had written five or six songs right away, and it was the first song of the second batch of songs that we wrote."
– Tom Morello on the creation of "Killing in the Name" (via Spin)
One of the defining rock riffs of the '90s, Rage Against the Machine's "Killing in the Name" is like classic rock on steroids. And, it's the drop D tuning that gives it that edge, especially during the ending cacophony and explosive final chorus.
Velvet Revolver – "Slither"
"Slither," the lead single from Velvet Revolver's debut album, Contraband, was a shot in the arm for mid-2000s rock music. That slinky, boozy drop D Slash riff was an instant classic, dispelling suggestions that VR were merely Guns N' Roses lite. The song's so good, in fact, that the reformed GN'R now include it in their setlist alongside their greatest hits.
"You have to find ideas that turn yourself on, because no one out there is putting stuff out that turns you on like when you first started. Or anywhere close. It makes you work really hard — you're still sort of kicking your own ass to do something good."
– Slash on finding the motivation to write riffs (via Rolling Stone)
What are your favorite Drop D riffs? Tell us in the comments! Also, check out our new & improved Complete Guide to Guitar Tuning here.