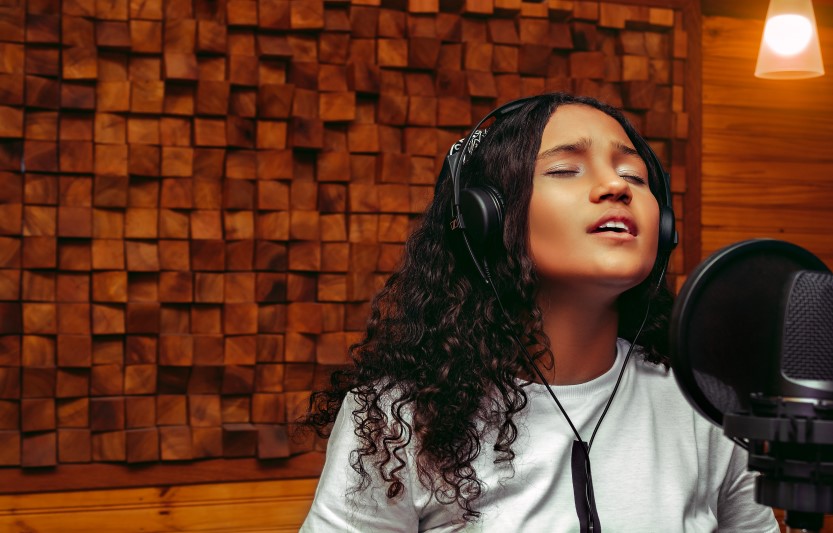 This list of easy vocal songs you can master quickly will jumpstart your singing journey. These songs are not only easy but also fun to sing. They can serve as a gentle starting point so you can ease into singing. 
Two of the most common mistakes that beginners make is trying to start out with difficult songs and with no help. Doing so can be quite frustrating and disheartening, or make you believe you have no talent for singing. However, regardless of talent, you can get better at singing if you take the appropriate steps. One of them is to start with easy songs.
Another great step that you can take to start singing the right way is to enlist the help of Roadie Coach. With this tool, you can easily record all your performances in high quality and organize your practice sessions. Coach will also help you sing full songs from scratch, giving you dynamic and instant feedback on your progress. Without further ado, here is a list of easy vocal songs you can master quickly.  
This massive worldwide hit is a great song to learn when starting out. Chances are you already know this song. Worst case scenario, you probably have heard it many times. Thinking Out Loud features easy words and a very singable melody. Make sure it is in your range though. Otherwise, you can transpose it. 
A timeless classic and a very fun song to sing. Girls Just Wanna Have Fun is ideal if you are a woman (or have an extremely high range, if you are a man). It consists of two easy sections to learn, so you can focus on having fun. Not only one of the best easy vocal songs but also a very fun one!
A beautiful ballad (pun intended) by one of the greatest singers of the turn of the century. This song is inspirational for two reasons. Firstly, it features amazing lyrics with an uplifting message of self-acceptance. Secondly, it features flawless vocals by the great Christina Aguilar, and you can try to imitate her style of singing. This will help you greatly when learning how to interpret a song with feeling. 
Fields of Gold features a simple yet haunting melody that has made it a staple for singing lessons. Despite the fact that Sting has an unusually high voice for a man, this song stays in a nice register. Fields of Gold features a very comfortable range for men, that many women can sing an octave higher. 
The melody line moves relatively slowly, making it a great song to work on your tone and diction. 
This masterpiece is the ultimate anthem for peace, understanding, and a plea for us to get along. Imagine features a deep message, with simple words and melody in a way that only John Lennon could deliver. 
This classic is known the world over and is arguably one of the greatest songs ever written. It has the added bonus of being a great song to learn for a singer that is just beginning. 
Wonderwall is one of the most played songs in the 90s. There is a good reason why the entire world was singing along to this song for so long. It features lyrics that move a little faster than the previous songs but a melody that does not jump much. This makes it great to work on retaining lyrics as well as working on connecting words. Definitely a great song to start your singing journey. One of the best songs ever… well… maybe.
Bubbly is a sweet song that is also easy to sing. This big hit features a very comfortable range for female voices and might also suit some male voices. The form is very simple, and so are the lyrics. Bubly also is a relatively short song, so you can learn even faster. If you are just starting out with singing, this might be the best song to learn first. 
This song is a classic that has transcended generations and for good reason. It features a very simple melody with beautiful lyrics. Can't Help Falling in Love is a great song to work on long notes that are held out. Also, this is a song that features a different structure much like the oldies do. However, this structure is also binary, meaning you only have to learn two parts. 
The massive appeal of the Beatles was largely based on writing great songs that were easy to sing. In fact, the biggest musical act ever made it a point to make singable songs. Paul McCartney and John Lennon really did an outstanding job with Let It Be, as it's an easy and fun song for any beginner to learn. 
This song is great to work on more of a rock sound. When I Come Around is an anthem from the 90s and an easy song to learn. Besides being fun, it features a simple structure and simple, conversational lyrics. It is also a song that will fit most male voices, and some female voices an octave higher. 
Chances are you already heard these easy vocal songs you can master quickly. As a matter of fact, you might know the lyrics to a few of them. In any case, the list above represents a varied repertoire, with songs from different genres and eras. The one thing that they all have in common, is that they are easy to learn. If you are just starting out with singing, pick one of the songs above and have some fun.