Guide to Understanding The Types of Electric Guitars
by Rodrigo Sanchez, Jul 9, 2021 . 4 min read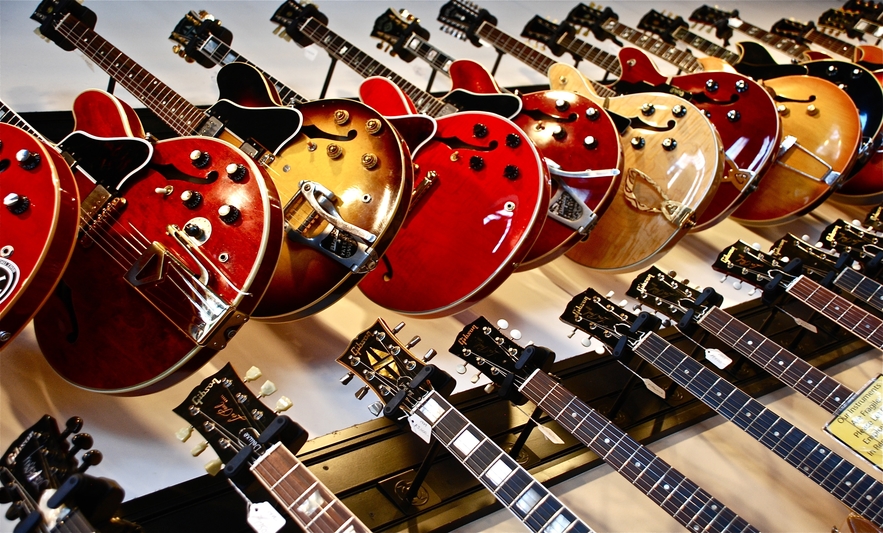 This guide to understanding the types of electric guitars will shed light on a topic that can be confusing for many.
The electric guitar is arguably the most popular instrument in history, despite its relatively short history. As a result, there are endless variations, configurations, and features to fit any type of player and preference.
However, when we go back to the basics, electric guitars are differentiated first and foremost by their body type. There are three main types: solid, semi-hollow, and hollow bodies. Each of these three body types offers unique sound characteristics that are typically associated with particular styles. In this guide, we're going to take a look at them and some popular models in each category. Here is your guide to understanding the type or electric guitars. 
However, for more specific help in choose choosing a suitable model for your style, skill level and needs, visit musiccritic.com for additional advice.
Solid body
Solid body guitars are the most popular. These guitars are usually made of a solid piece of wood and do not have any cavities or chambers in them. They were initially used as an alternative to hollow bodies to avoid feedback. Additionally, solid body guitars typically have more sustain, which makes them great with distortion. Naturally, they are the prime choice for rock and blues. 
The most popular solid body guitar is the Stratocaster. This model produced by Fender has been in continuous production for over seventy years; and its shape and technology has been reproduced by endless brands. Notable "Strat" players include Jimi Hendrix, Stevie Ray Vaugham, and David Gilmour. 
Another highly popular type of solid body guitar is the Les Paul. It is mostly associated with the Gibson brand and is the guitar of choice for legends like Slash, Jimmy Page and Paul McCartney. There are many more famous models of solid body guitars, but the Strat and the Les Paul are the most popular. 
Semi-hollow body
These types of guitars are chambered, typically in the form of two f-holes on the top of the guitar's body. The inner chamber of the guitar is divided into two by a block of wood that runs through the body of the instrument. Solid body guitars have a nice warm tone with added depth thanks to the chambered body. They can be versatile instruments and have been used in many styles and genres. Its most popular model is the Gibson 335, the instrument of choice of legends like Larry Carlton, Dave Ghrol, and B.B. King (who uses a variation of it). 
Hollow body
These guitars have a bigger acoustic chamber inside of them than the semi-hollow bodies. As a result, they produce an even warmer sound that is often employed by jazz players. Just like the other two, hollow body guitars have been produced by many brands to appeal to the jazz player. As a matter of fact, hollow body guitars are the go-to instrument for jazz guitarists that want to emulate a more traditional sound. The most popular hollow body guitar is the Gibson ES-175, used by jazz icons like Joe Pass, Jim Hall and Herb Ellis. Even though this guitar and its variants are the premier choice for jazz, it has also been used in other styles. For instance, Steve Howe of the progressive rock band Yes was a notable ES-175 user. 
This guide to understanding the types of electric guitars is just the tip of the iceberg. For each body type, there are countless options and variations of pickups, neck profile, electronics, bridge type, and more. However, this guide is a great place to start making sense of the seemingly endless choices out there. Naturally, the best way to really understand what these guitars sound like is to play them. Take the time to visit a music store and try some types of guitars based on their bodies. This way you will be able to see what you truly connect with. Have fun. 
Subscribe to Gain Access to our Alternate Tuning Library & Accompanying E-Book Guide
Discover the origin of the most popular tunings, some less-known facts, AND most importantly, learn how to play songs in your desired tunings.