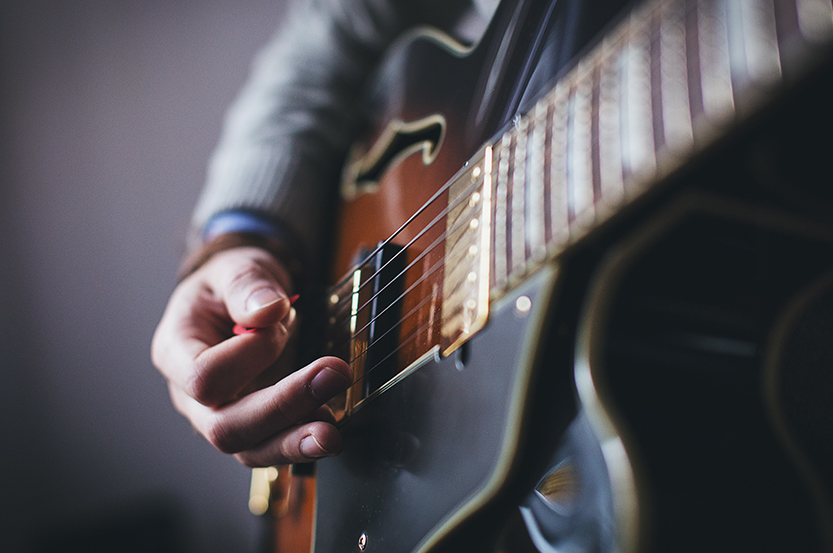 When you learn guitar, you sometimes hit a brick wall. You get sick of working on the same things, and find it harder and harder to get inspired.
Y'know what can really help? Experimenting with alternate tunings. If ever I get stuck in a rut when playing guitar or writing riffs, playing around with alternate tunings is a surefire way to get my mojo back. Our Complete Guitar to Guitar Tuning is super helpful as well.
And, judging by the amount of legendary guitarists that use alternate tunings in their playing; I guess I'm not the only one.
Here are three classic Iconic alternate tunings that you need to try. So fire up your tuning app or online guitar tuner and get inspired to play again with these awesome tuning variations.
(Of course, if you want to use the best guitar tuner for alternate tunings, there's Roadie 3 – which comes with all these alternate tunings as presets, allowing you to switch between them in a matter of minutes. Shameless plug, we know, but hey, it's our blog!)
Here are some Iconic Alternate Tunings You Need To Try
Drop D Tuning
 Great for: Heavy, chuggy riffing
Used by: Tom Morello, Kurt Cobain, Chris Cornell and Kim Thayill
Drop D is probably the widest used alternate tuning on this list, and certainly the easiest to master. Simply tune the low E string down a whole step to D and you're good to go (Total Guitar once described it as the tuning equivalent of missionary sex because it's the first thing that everyone tries – it's an apt assessment!).
What's Drop D good for?
Riffs.
Heavy. Metal. Riffs.
That's because drop D tuning allows for faster transitions between power chords and adds two lower semitones to the bass range of the rhythm guitar allowing for a deeper – read "heavier" – sound. Early examples of Drop D include The Beatles' "I Want You (She's So Heavy)" – an entirely apt title – and Led Zeppelin's "Moby Dick." But, it was tracks like Rage Against the Machine's "Killing in the Name," Soundgarden's "Outshined" and Nirvana's "Heart Shaped Box" that really brought drop D to mass consciousness.
DADGAD
Great for: Otherworldly, middle-eastern inspired sounds
Used by: Davey Graham, Jimmy Page
Most commonly associated with Celtic music, DADGAD is accomplished by tuning the first, second and sixth strings down a whole step; British folk guitarist Davey Graham brought DADGAD to western music, inspired to experiment with alternate guitar tunings after hearing an oud player while in Morocco.
Led Zeppelin's Jimmy Page – influenced by Graham – is probably the guitarist most widely associated with DADGAD. Early Zep instrumentals like "Black Mountain Side" and "White Summer" (the latter supposedly based on Graham's "She Moved Thru' the Bizarre/Blue Raga") were characterized by its use.
Page's most famous use of DADGAD undoubtedly comes on Led Zeppelin's "Kashmir." An absolute monolith of a riff- "You need time to catch your breath after [it]," Page commented in 2015- it's the DADGAD tuning that gives "Kashmir" its epic, otherworldly quality.
 Nashville Tuning (High Strung)
Great for: Shimmering, ethereal chord sounds
Used by: David Gilmour, The Rolling Stones
The next one is by far the most difficult on the list, as it requires replacing your guitar strings. The wound E, A, D and G strings from a six-string guitar are replaced with lighter gauge strings (usually their equivalent courses from a 12-string guitar) and are tuned an octave higher.
The effect is to deliver shimmering, ethereal chord sounds that can really make a song pop. Probably the most famous example of Nashville tuning in popular music is the Rolling Stones' 1971 classic "Wild Horses"; on which Mick Taylor used a Nashville tuned guitar while Keith Richards played a 12-string.
James Williamson also used Nashville on The Stooges' "Gimme Danger." Pink Floyd's David Gilmour employed it on "Hey You" from the band's "The Wall" album; but with a notable variation – the low E-string was replaced with a second high E; rather than a 12-string low E octave, meaning that it was actually two octaves up.
Nashville tuning is bit of a faff, but certainly worth trying if you want your chords to glimmer.
Hopefully, messing around in some of these tunings got your creative juices flowing. Here's a few more songs in alternate tuning you should check out.
What did you think about these Iconic Alternate Tunings You Need To Try? Share your thoughts in the comments below!