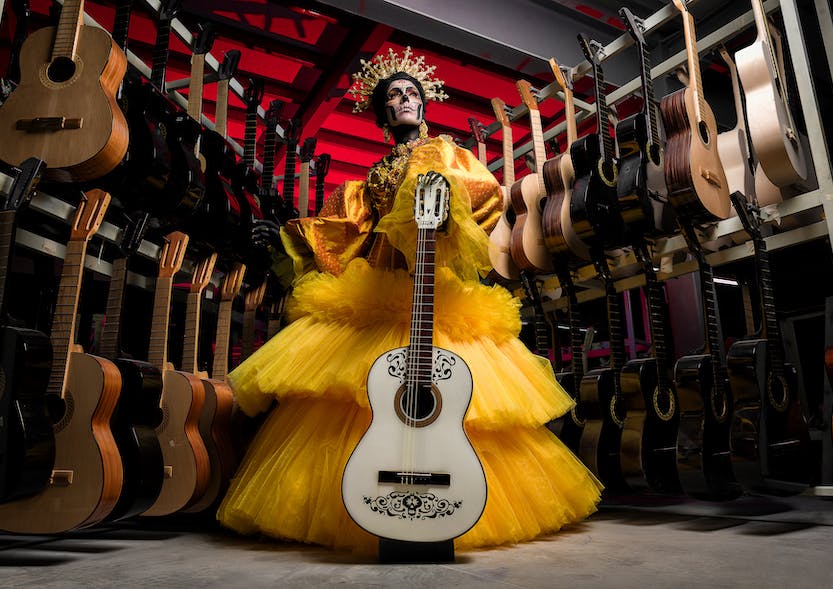 The best Halloween songs of all time can make for a scary good playlist.
The spookiest and most enchanting time of the year is incomplete without the perfect playlist of eerie and haunting tunes. From timeless classics to more modern selections, we have got it all. These songs play an integral role in setting the mood for this ghostly holiday. In this article, we will explore some of the best Halloween songs of all time, celebrating the magic that music brings to the season of thrills and chills. Without further ado, here are the best Halloween songs of all time.
Kicking off our list is the King of Pop himself with the legendary "Thriller." Released in 1982 as the title track of the best-selling album of all time, this song is synonymous with Halloween. With its unforgettable Vincent Price narration and iconic music video, it's the perfect anthem for your Halloween festivities. It comes with fantastic guitar and bass parts that are a lot of fun to play and listen to.
A true Halloween classic, "Monster Mash" was released in 1962 by Bobby Pickett and has remained a staple of Halloween playlists for over half a century. The song tells the story of a mad scientist's monster party, and its catchy, upbeat melody and spooky sound effects make it an essential Halloween hit.
From Tim Burton's dark and delightful world of "The Nightmare Before Christmas" comes "This Is Halloween," sung by the Pumpkin King, Jack Skellington. With its eerie lyrics and Tim Burton's signature whimsical style, this song perfectly captures the essence of the holiday.
This is a funk-infused pop hit that burst onto the music scene in 1984. This catchy and infectious theme song became an instant classic, primarily due to its association with the supernatural comedy blockbuster of the same name. It came with a memorable refrain: "Who you gonna call? Ghostbusters!". It also features a danceable groove and captures the fun and lighthearted spirit of the film. It's a tune that's impossible to disassociate from Halloween and has become one of the best Halloween songs of all time. Whether you're battling ghosts or just looking to get into the Halloween spirit, "Ghostbusters" is the ultimate theme song for all your supernatural adventures.
Released in 1984, "Somebody's Watching Me" by Rockwell taps into the paranoia and fear of the unknown, making it a perfect choice for a Halloween playlist. The music video, featuring creepy imagery and appearances by horror icons, adds to the spooky vibe. This catchy songs features Michael Jackson on the chorus. Naturally, this played a massive part in making this song a gigantic success story.
"The Rocky Horror Picture Show" is a cult classic, and "Time Warp" is its infectious centerpiece. With its danceable beat and quirky lyrics, this song has become a Halloween party essential. Audience participation, costumes, and prop usage make it a favorite at "Rocky Horror" screenings during the season.
"Superstition" is a timeless and iconic funk track by the legendary Stevie Wonder. It is an exploration of superstitions and their power over our lives. With its infectious, toe-tapping rhythm and irresistible groove, "Superstition" is an instant classic that transcends generations. Stevie Wonder's soulful vocals and masterful command of various instruments, including the clavinet, add to the song's brilliance.
The song remains a timeless gem in the world of funk and pop music. It also belongs among the best Halloween songs of all time. And that is true whether you are superstitious or not.
Screamin' Jay Hawkins' 1956 rendition of "I Put a Spell On You" is a haunting and sultry anthem that has been covered by many artists over the years. Its combination of a smoky, seductive vocal performance and eerie background vocals makes it a great addition to any Halloween playlist. A must-have for any Halloween party.
Santana's "Black Magic Woman" is an enchanting, guitar-driven song that fits perfectly with the mystique of Halloween. Originally written by Peter Green and performed by Fleetwood Mac, Santana's rendition adds a Latin-flavored twist to the song's magical theme. This may be a favorite among guitarists, as Carlos Santana is one of the most recognized pickers of our time.
Rob Zombie, known for his horror-inspired music and films, offers up "Dragula," a heavy, industrial track that oozes with a dark, macabre energy. Its menacing guitar riffs and aggressive beat make it a fantastic choice for any Halloween party with a more intense atmosphere.
"Zombie" is a haunting and emotionally charged song by the Irish rock band The Cranberries. With Dolores O'Riordan's distinctive and powerful vocals, "Zombie" blends a melodic, ethereal quality with a forceful message. The lyrics and the song's somber tone make it a poignant and thought-provoking piece of music, serving as a powerful reminder of the impact of violence and the longing for peace. "Zombie" is a timeless track that is one of the best Halloween songs of all time.
"Pet Sematary" is a punk rock anthem with a macabre twist. This song is by the iconic American punk rock band, the Ramones. Released in 1989, the song was featured in the film adaptation of Stephen King's chilling novel "Pet Sematary." With its catchy, upbeat melody and punk rock energy, the Ramones deliver a song that's both catchy and eerie. The lyrics are lighthearted yet dark, exploring themes of death, resurrection, and the consequences of tampering with the natural order.
The best Halloween songs of all time can be a great hit at your party. These songs are essential for setting the mood of your Halloween celebration. So, put on your costume, dim the lights, and let the music fill your haunted house with the eerie spirit of the season. Happy Halloween!