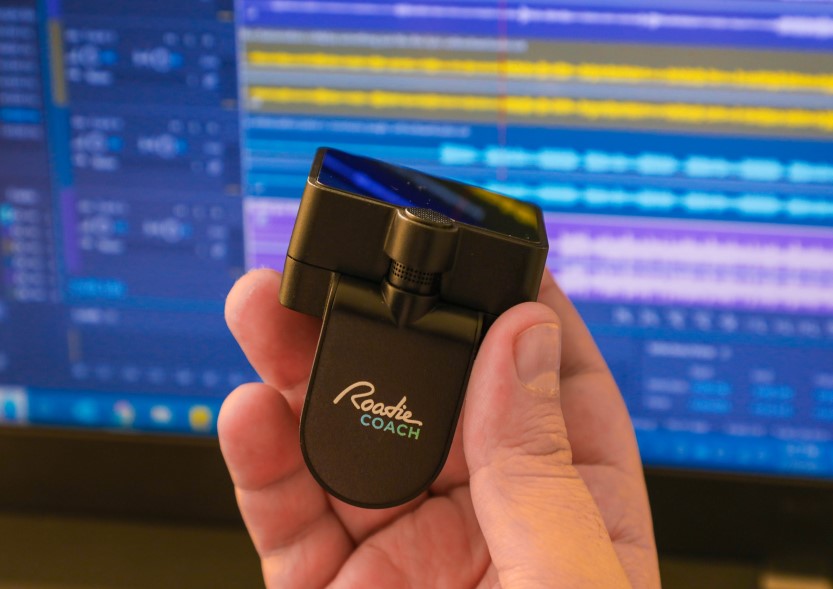 Ever wondered what the best tools or software for music creators are? In this article, we're going to give you a balanced list
of everything you need to create music. Naturally, some choices may be changed depending on your music niche. That said, these are all universal tools that can be employed by a wide diversity of music creators.
But what are music creators anyways? Anybody that makes music or creates it, is a music creator. That includes composers, songwriters, music producers, mix engineers, instrumentalists, and more. There is also some that wear several hats and do a few of the activities listed here, and more. Without further ado, here is our list of the best tools for music creators
Roadie Coach
Roadie Coach is a fantastic tool for creating music and recording your ideas via its high-quality mics. This amazing tool attaches to your instrument of choice and records both your voice and instrument while suppressing ambient sounds and noise.
Roadie Coach uses audio matching algorithms to detect when you have played a song you are working on and intelligently stores the recording with others like it. Coach even gives you detailed insights on your practice sessions like average practice time, chord progression and most practiced songs.
Additionally, Coach can also help you become a better musician. This fantastic device works in tandem with the Coach App, which features tons of songs to learn and much more.  Whether you are a guitarist, singer, or ukelele player, you can learn songs from the huge app library and fast-track your progress, all while recording your practice sessions and performances.
Aeros Loop Studio Gold Edition
The Aeros Loop Studio Gold Edition is like having a portable recording studio at your feet, allowing you to create full songs with multiple parts and up to six layers per part. Imagine being able to build rich, complex compositions wherever inspiration strikes! It's also perfect for capturing those spontaneous musical ideas that often come and go, easily recording your flashes of inspiration, saving them, and then exporting them to your digital audio workstation (DAW) for later use. In essence, the Aeros Loop Studio Gold Edition is a versatile and user-friendly looper pedal that enhances your music making workflow.
Ableton Live
Ableton Live has been one of the most popular DAWs for years. It's employed by producers, musicians, and artists that record and also use it for live performances.
Available for both Windows and Mac OS, is a comprehensive DAW that includes an audio editor, MIDI support, etc. It keeps updating and is now on version 11, and still in hot demand all over the world.
This is arguably the go-to software for live performance as well, as it features tracks and allows you to trigger stems that you can use to enhance your band's sound, or if you play as a solo act. Ableton offers a demo version of Live, so you can try it with full functionality and decide if it works for you. In short, a fantastic and widely used DAW and one the best tools for music creators.
Alesis V25
The Alesis V25 is a portable keyboard that comes with full-size keys, creating an ideal combination of comfort and convenience. With a variety of features and ease of use, this keyboard is one of the best controllers for beginners, as it is easy to transport and offers great functionality.
It comes in a streamlined design that makes it excel as a MIDI keyboard for musicians or producers.
To top it off, this compact keyboard/controller comes with a lite version of Ableton Live. Basically, you can start producing much like a pro by purchasing this keyboard.
D'Addario NS Artist Capo
If you play guitar, then this capo is a must. Simply stated, a capo is a small device that clamps onto the neck of a guitar. Its function is to raise the pitch in order to change the tonality you play a given song in. A capo accomplishes this by shortening the length of the strings, and raising their pitch.
The D'Addario NS Artist Capo is produced by one of the top brands in guitar accessories. It comes with a clever trigger-style design that is convenient to set up and very convenient.
This capo presents an uncomplicated solution to key changes and is also long-lasting while remaining affordable. Whether you want to attempt a song in another key, or just modify its tonality, these capos will get the job done properly.
Blue Yeti USB
The Blue Yeti is a USB microphone, convenient and inexpensive. It allows you to plug it straight into your computer, without needing any other external gear. In other words, you can bypass an audio interface and just start recording in no time. After all, a convenient mic is one of the most important tools for music creators.
The Blue Yeti ships with its own mini stand so you can conveniently place it on your desk. Besides recording singers, you can also use this mic for capturing your songwriting ideas, or create music fast and conveniently, without having to power up your entire setup.
This mic features good sound quality and can capture not only voice but an acoustic guitar, ukulele, and any other similar instruments. All of this is done via a standard mini USB cable and at a price that sets it apart from the competition.
The War of Art – Steven Pressfield
Wait… a book? That's right! If you've been a music creator for longer than a few months, you probably know that sometimes frustration and despair can rear their ugly head and get the best of us.
This fantastic book keeps things in check by addressing the value of discipline. The simple premise of this book is that a professional works on his craft every day, with no excuses.
The War of Art also examines some of the beliefs and attitudes that prevent us from working on our art every day. Needless to say, world-class musicians apply the concepts in this book with a great degree of consistency.
Whenever you are struggling with thoughts of getting better at your instrument, creating music that is good enough, and other issues of the soul regarding the creation of art, turn to this book for guidance.
This list of the best tools for music creators presents a balanced group of items that can truly help you. It features everything from practical software all the way to inspirational tools. From getting your sound right to finding ways to navigate unnerving moments as a music creator, this list can help.
Remember to keep a positive attitude throughout your process and be kind to yourself. After all, no tool can teach you those two things. If you have any particular tools that you like, please share them below in the comment section. Until next time.