The Ukulele and Guitar Coach App
by Rodrigo Sanchez, Mar 14, 2023 . 6 min read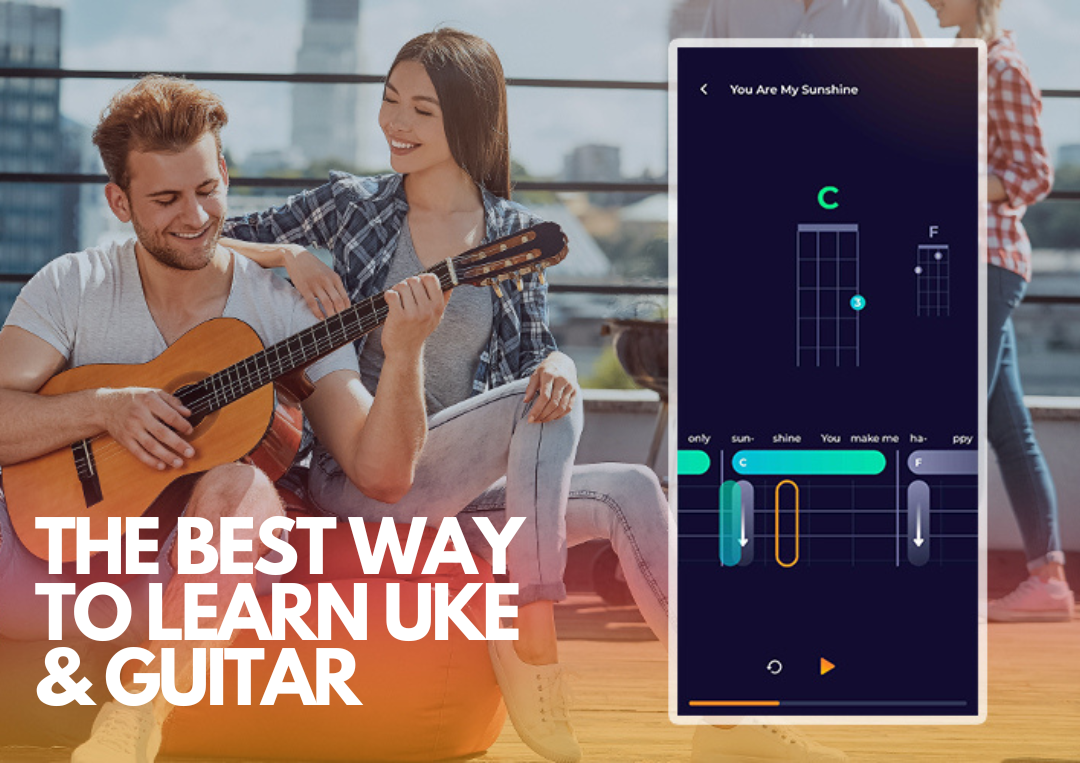 If you want to learn guitar and/or learn ukulele, you've come to the right place!
The Ukulele and Guitar Coach App is one of the best tools out there for beginners to intermediate players.
One of the most impressive features of this app is that it listens to you play and coaches you along the way. This is all done while having fun and ensuring that you are progressing at a good pace. The Roadie Coach is available for IOS and Android operating systems and is quite easy to use, with an intuitive design and operation.
And to make sure that you are truly having fun, you get to pick among a wide variety of songs from the app, classified by level of difficulty.
Roadie Coach then listens to your practice session and helps you by providing customized feedback based on what you play. From getting the chords right to playing in time, Roadie Coach is an unmatched app for effective and fun learning.
Who Is It For?
Roadie Coach was developed by a team of experienced musicians, specifically for other musicians. It is a fantastic tool for self-learning or to complement your learning process while you work with a teacher. And if you are wondering who this app is for, we've got a list right below:
Beginner ukulele player
Beginner guitar player
Intermediate player
Music teacher
Start by picking a song
Once you open the Roadie Coach app, it will ask whether you want to learn guitar or learn ukulele. Pick one, and then you will get a vast list of songs to choose from. You can easily see whether it's an easy, intermediate, or advanced song, as they are all organized under such labels.
Additionally, there is also a selection of Christmas songs.
Tune-up
After you pick the song you want to learn, the app presents you with a menu of choices. These are classified into "Discover" (Chords and Song), "Practice" (Chords and Strumming) and Perform (Song). However, at the very top, there is an option for tuning.
Click there in case you haven't tuned your instrument yet. If you have, feel free to skip to the next section.
Once you click on the Tuner, the app opens up a diagram where the string to start your tuning is highlighted. Pluck that string and look at the needle above. If your string is too low, the needle will be away from the center and you will briefly get the message "too low" on the screen. This means you have to tighten it or turn the tuning machine up.
Once you hit the correct string pitch, the needle with line up with the middle and you will get a check mark that indicates that said string is now in tune.
Repeat the process for the remaining strings. In case you are still a bit lost, click on the upper right-hand question mark, where a video will appear showing you exactly how to use this tuner to tune your instrument.
Practice Chords
Once you have tuned up, you are ready to start learning the chords of the song in question. The guitar and ukulele app will:
Listen to you strum each chord and give you instant feedback on the accuracy of the notes.
Show you how to position your fingers on the fretboard.
If you cannot play the chord in question after a few tries, the app will open the "I need help" section. Here, you get detailed information on how to play the chord, with detailed diagrams that are easy to follow.
Once you can play the chord accurately, the app will automatically move on to the next chord of the song you picked. At the end, the app will give you a percentage that shows how well you did, and feedback on which chords you need to work on.
Play the song at a slower speed
The next stop is to practice the song but at a lower speed. Just like with the tuner and chords, Roadie Coach will listen while you play. It gives you a click and a simple backing track to play against so you can follow the tempo.
One of the great design features of this exercise is that if you miss a chord, Roadie Coach will stop the backing track and wait until you play the chord before moving on again. A great way so you can learn guitar or learn ukulele while easing into it.
Again, the app will evaluate your performance and give you instant feedback.
Playing the song at a higher speed
In order to really learn guitar or learn the ukulele appropriately, it is important to play the song at the actual speed. This is exactly what happens next with Roadie Coach, right under the "Practice" section. The process is the same as the one before but at a faster tempo. In other words, you will be playing the chords of the song against a backing track with a click.
Add Strum Patterns
Also under the "Practice" session, the next step will be to work on your strumming for the chosen song. Just like in the previous sections, you get personalized feedback with an overall score.
Roadie Coach will tell you which aspects you need to improve on so you can focus on those.
If the strumming patterns are a bit challenging, you can also click on the question mark, which will bring up a detailed video on how to play said strumming pattern.
Practice the Song at full speed
Now it's time to put it all together and see how it sounds. In this section you can:
Adjust the tempo to your liking.
Record yourself practicing the song.
See the lyrics of the song displayed to make singing along easy.
Playback your practice sessions to hear yourself progress.
Get your overall score, with critical personalized feedback.
Referral Program (Available on iOS Only)
Do you have a friend that also wants to learn guitar? Perhaps an acquaintance that wants to learn ukulele? Once you use the Roadie Coach app, you will want to share it with others so they can also get in on the fun.
This is why we have a fantastic referral program. All you have to do is refer a friend so you (and your friend!) get a full month of premium access for free.
Roadie Coach is a fantastic app that makes learning the guitar or ukulele fun! With a step-by-step approach, detailed customized feedback, and easy to use app, Roadie Coach can help you improve on your chosen instrument much faster, avoiding some of the frustration that is sometimes inevitable. So let the fun begin and install Roadie Coach on your phone today!
Subscribe to Gain Access to our Alternate Tuning Library & Accompanying E-Book Guide
Discover the origin of the most popular tunings, some less-known facts, AND most importantly, learn how to play songs in your desired tunings.