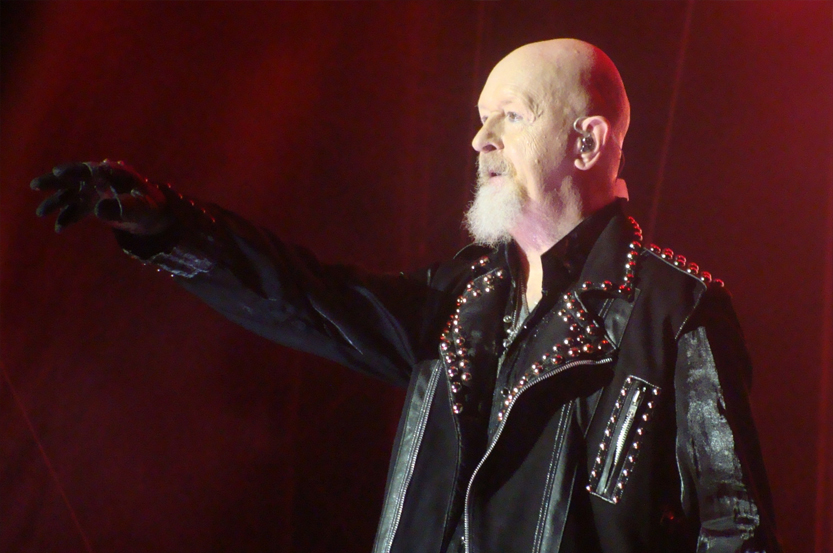 Nothing says Christmas like a screeching guitar solo. Christmas Hits CDs are flying off shelves at this time of year. But, spare a thought for your heavy metal brethren. For those that wield a Gibson Flying V and like life loud, Christmas compilation albums are usually something of a drag.
It doesn't have to be this way though! Today, Roadie is showcasing some of the top Christmas albums from the masters of hard and heavy music.
So crank that Marshall JCM800 half stack all the way up to 11! T'is the season to be shredding!
Halford – Halford III: Wintersongs
Judas Priest frontman Rob Halford is known for his screeching falsetto and penchant for studs and leather. Yuletide cheer isn't exactly his MO. But, in 2009, Halford released his very own Christmas album: Halford III: Wintersongs.
And, much to the pleasant surprise of headbangers everywhere, it was a full on Christmas cracker. Here's Louder Sound's take on the record:
"I've always said I wanted to produce a Christmas CD," said Judas Priest frontman Rob Halford somewhat unconvincingly as his solo band unveiled their own Yuletide selection box in 2009. The resulting album, however, was a triumph, with Halford injecting just the right amount of theatrical drama into twinkly classics such as We Three Kings, Oh Holy Night and Oh Come All Ye Faithful without the whole project dissolving into kitschy schmaltz.
Christopher Lee: A Heavy Metal Christmas/A Heavy Metal Christmas Too
Vampire. Wizard. Sith Lord: Christopher Lee was a master of dark theatrics. So it's perhaps unsurprising that the legendary thespian also gravitated towards heavy metal. As the Guardian notes, Lee released not one, but two Christmas records with a heavy metal theme:
"In 2012, Lee released A Heavy Metal Christmas, made up of interpretations of The Little Drummer Boy and Silent Night, while last year's follow-up, A Heavy Metal Christmas Too, featured the single Jingle Hell ("Darkness is a bone/ Death embrace the night!"), which reached No 18 in the Billboard charts. This made Lee the oldest musician ever to chart, pipping the previous record holder, octogenarian Tony Bennett, to the top by four years."
Lee's deep baritone certainly brought an ominous quality to these recordings. And, you've got to salute the late in life head banger, who recorded these albums in his 90's. Doesn't get much more metal than that, folks!
Various – We Wish You a Metal Christmas and a Headbanging New Year
This one reads like a who's who of heavy metal, and, given the caliber of musicians on offer, it's perhaps unsurprising that Gibson ranked it number 1 in their "10 Rock and Metal Christmas Albums That Aren't Horrible" list (a dubious honor, but there ya go). As they noted:
On We Wish You A Metal Xmas & A Headbanging New Year, a collection of rock and metal greats put their talents together to pay tribute to the merriest time of year. Album highlights are plenty, including Motörhead's Lemmy Kilmister, Foo Fighters' Dave Grohl and ZZ Top's Billy Gibbons rocking out together on "Run Run Rudolph" and Testament's Chuck Billy and Anthrax's Scott Ian putting their spin on "Silent Night." Further appearances include Alice Cooper, Ratt frontman Stephen Pearcy and Black Sabbath's Tony Iommi. It's safe to call this the definitive heavy music Christmas album!
Roadie's highlight is certainly Tony Iommi and Ronnie James Dio's take on "God Rest Ye Merry Gentlemen."  When we started listening to that song, we didn't think it was something we wanted. By the time it was over, we realized it was something we needed!
Another one of our favorites has to be Trans-Siberian Orchestra's The Lost Christmas Eve. 
What are your favorite metal Christmas albums? Share your stories in the comments.
Main blog photo credit: RavenBoy13