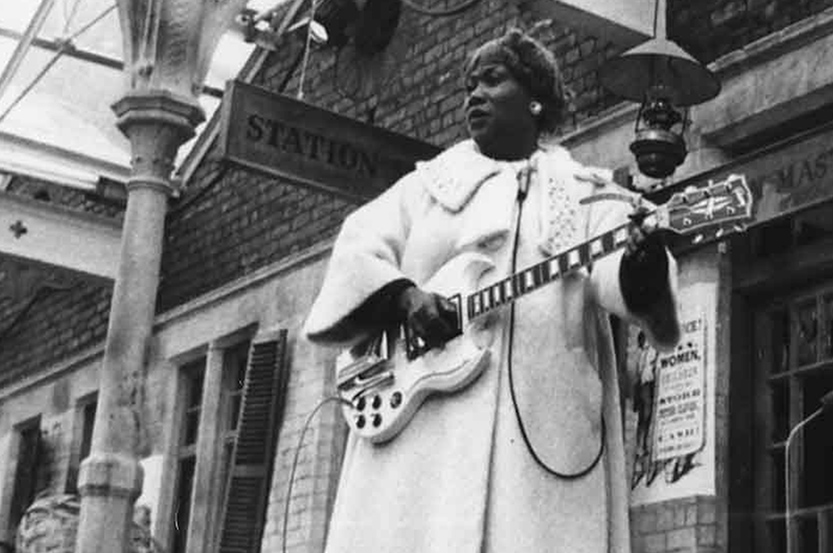 STOP. Before you read any further – you need to know just what kind of lightning in a bottle it is that we're dealing with here.
Rock's Hidden Roots
Watch this clip of "Up Above My Head" at 1:39-2:00 to take in this fantastic solo by one of history's great music pioneers:
ARVE Error: src mismatch
provider: youtube
url: https://www.youtube.com/watch?v=JeaBNAXfHfQ&t=1m39s&feature=youtu.be
src in org: https://www.youtube-nocookie.com/embed/JeaBNAXfHfQ?start=99&feature=oembed
src in mod: https://www.youtube-nocookie.com/embed/JeaBNAXfHfQ?start=99
src gen org: https://www.youtube-nocookie.com/embed/JeaBNAXfHfQ


Before Elvis brought us 'Hound Dog'. Long before Jimmy Page dreamed of 'Stairway to Heaven', Sister Rosetta Tharpe was there riding the line between gospel and rock'n'roll, shredding and rocking as all young soon-to-be rockers looked on in awe.
She was one of the first guitarists to use heavy distortion in her sound. Her European tours through England in the early 60's are cited by the likes of Eric Clapton, Jeff Beck, and Keith Richards as having a profound hand in the birth of british blues.
Talent Shrouded by Politics
Not only is her ability to emote through her guitar palpable, but her voice commands and soars. There's no wonder she was such an inspiration in her time. The reason we don't celebrate her today? She was a woman. Not only that, she was a black woman. That's a tough hand to play in a mid-40's USA.
Not only was she coming up against sexism and racism, but the gospel traditions that she came from had a hard time accepting her exploration. She fearlessly played everywhere between church halls and pop music venues despite the flack she got from the church community for daring to knock on the door of secular music.
Hall of Fame
I'm thrilled to say that no longer is this legend a buried secret. In 2018 Sister Rosetta Tharpe will officially be recognized and inducted into the Rock and Roll Hall of Fame. It's hard not to stand up and shout "It's about time!" for someone to be celebrated who – without them – it could be argued that rock's greatest heroes around the world might have never picked up a guitar.
Let's be proud to give this powerful figure her place in the history books, and in our playlists.