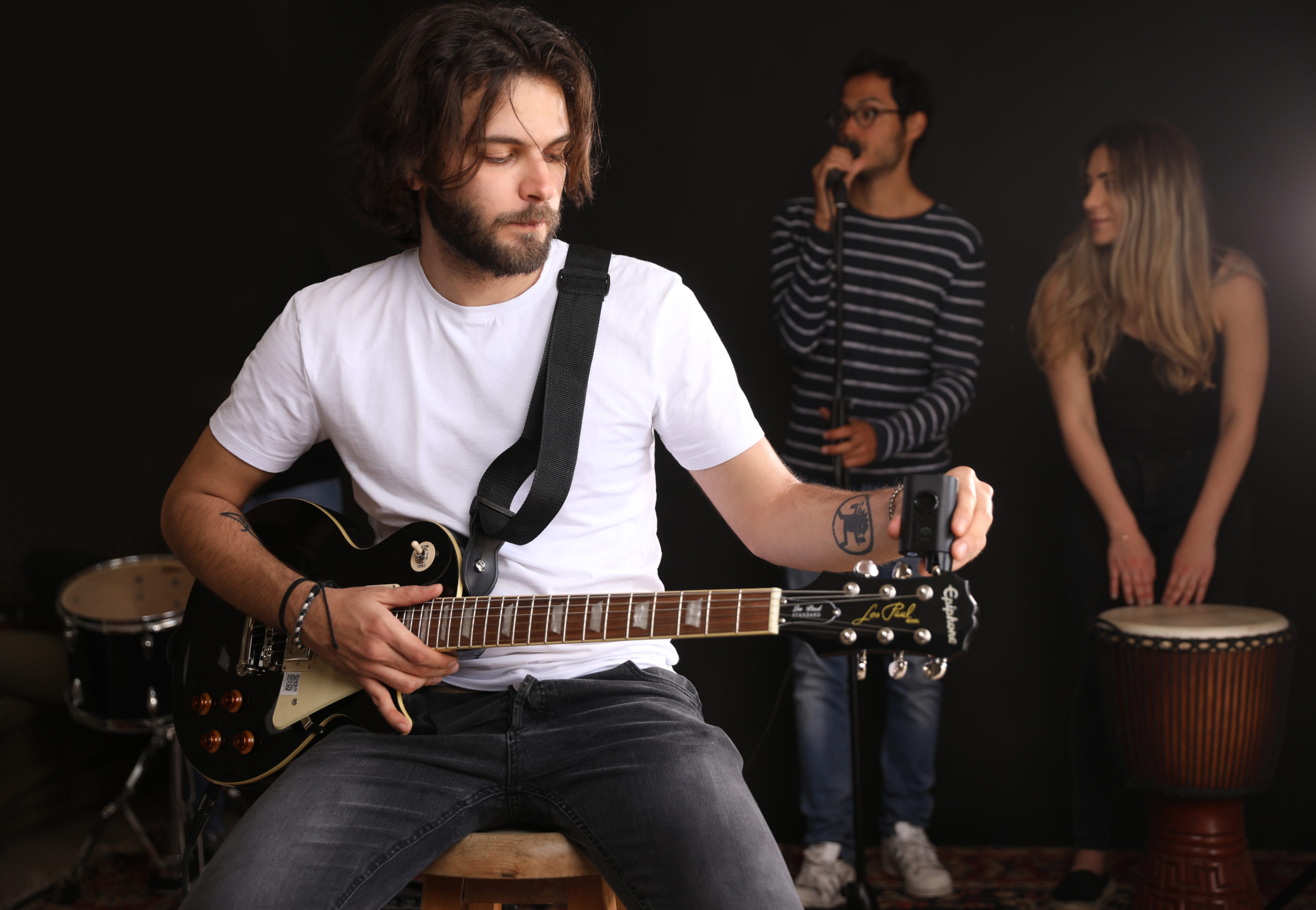 We know you love the Roadie music blog. And maybe that's all you know us for? But this time we're here to share more than just great new content.
We're working on a new kickass product and we've been dying to share the deets with you!
Here's a sneak peek 
Roadie 3 is launching on Kickstarter in May 2020 and we've packed this next-gen automatic tuner with the features most requested by our Roadie 2 backers and users. So without further ado, take a read through what the Roadie team has been working so hard on.  
Roadie 3 – An Automatic Tuner That Solves All Your Tuning Needs
Roadie 3 is an automatic string instrument tuner with a motor twice as fast as Roadie 2.

It can tune almost any string instrument with geared pegs in just seconds. This includes electric, acoustic, classical and steel guitars, 7, 8 and 12-string guitars, ukuleles, banjos, mandolins, and more, with the exception of the electric bass which can be tuned using the

Roadie Bass

.

It is built on next-generation vibration detection and delivers improved tuning accuracy and enhanced noise immunity.

Tuning is more efficient through its redesigned navigation and favorite buttons. 

Roadie 3 provides the ability to utilize alternate tunings quicker. You can explore as many as 50 built-in tunings and the possibility to even create your own. 

A full-color high-resolution screen lets you see all your options quickly.

Roadie 3 will wind your new string to tension then tune it up, all in one smooth step. 

We also included a vibrating metronome feature to help musicians keep a tight rhythm while playing! 

Despite these advancements, aesthetics were not compromised. In fact, Roadie 3 now sports an even more compact and ergonomic design that fits comfortably in your hand, pocket or kit bag.
Sign up today to be the first to know of our official launch date and gain access to the early bird Kickstarter backer prices. Meanwhile, dig into the Roadie 3 product page here. 
Why Kickstarter for Roadie?
Now, I know some of your fellow musicians  might be thinking – "How can I get my hands on this bad boy?"
Well, Roadie 3 will initially be launching through Kickstarter – a global crowdfunding platform focused on innovation before it is made available to the wider public.
In 2017, we launched the Roadie 2 and Roadie Bass automatic guitar tuners on Kickstarter and smashed our goal raising more than half a million dollars! (Not that we love to brag or anything, but… it was the most funded music accessory in the history of crowdfunding!) 
The Kickstarter community is bursting with curious, passionate, and progressive musicians who are always ready to explore new products and tuning methods. When we share our designs, features, and progress with the Kickstarter backers, we get perspective far greater than the sum of our own. This is the best way we have found to create something that will be impactful for a great many musicians.
In 2020, we are relying on your help to reach new heights in music gear innovation. Our team has never been more ready to deliver something next level, and so, we are once again asking for your passion, critique, and pledge in order to help us bring Roadie 3 to life.
Sign up to get notified and gain access to exclusive early bird prices! 
If your interest in Band Industries expands beyond just the blog, then sign up today to get notified of the official launch and gain access to an exclusive first buyer's price through our 2020 Kickstarter campaign! 
We need your help!
You can actually make a HUGE difference by telling as many musicians (and friends of musicians) as possible. Please share on Facebook and Twitter or forward our link to anyone who you think may be interested. We want to grow the word of mouth presence of Roadie 3 as we prepare for a strong campaign to brighten up everyone's summer. 
Stay tuned for more updates closer to launch!