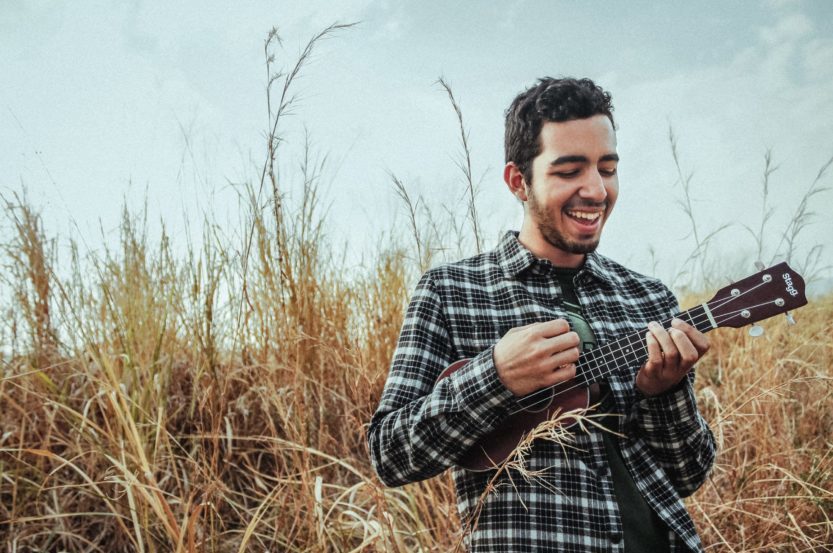 These 7 easy song covers to learn on ukulele will help you get better while having fun.
The uke is not only one of the most fun instruments to learn how to play but it's also one of the easiest.
With the right tools, such as the Roadie Coach app, available on both IOS and Android, you can learn how to play a full song after just one lesson.
Pop songs are great for learning how to play because most have similar chord progressions and repeating patterns.
Without further ado, here are the 7 easy song covers to learn on ukulele. 
In 2016, we lost no less than 30 of the most well-known and beloved athletes, actors, and musicians of the 20th century. Among them, was the genius behind the first song on our list, Leonard Cohen. While playing "Hallelujah" on ukulele might seem strange, the instrument doesn't take the energy out of the song. This is a great song for learning how to build up intensity through chords. "Hallelujah" starts softly, but through each verse, the song intensifies. Mastering the song will also teach you how to gradually raise the volume.  
In 2011, this song was pretty much unavoidable. It was Adele's first number-one UK single and most critics feel that the song is the highlight of her Grammy-winning album "21." It's also fairly easy to play on the ukulele. It has a pretty straightforward strumming pattern and since Adele's voice carries the original track, there's also some room for improvisation here. How should you accentuate the song? It's entirely up to you. You can slow it down to make it more interesting or you can speed it up to give it a more pop feel.
The Beatles really wanted to make "Let It Be" something special and worked on the song for almost three years, recording several versions of it during that period. Although it was recorded nearly four decades prior to it, the song has the exact same chords as Adele's "Someone Like You." However, it has a slightly more complicated chord pattern, which changes during the chorus.  
Everyone knows this 1960s classic. But what many people don't know is that "Can't Help Falling in Love" was actually based on an old French song called "Plaisir d'Amour," which was composed way back in 1784. There are many ways you can play this classic on the uke. You can play the standard chord progression in the beginning but once you get better at it, you can start adding your own flavor to it. A good idea would be to listen to the original French version for inspiration.
This is one of the sweetest and most enduring songs from the last century. It has been covered by many artists and features a simple chord progression and strum pattern.
Stand by Me is one of the premier ukulele songs to play and it also happens to be one of the easiest. The chords on this song will help you when learning many other songs, as they are quite common and central to playing the uke.
This song is one of the biggest hits in recent years and is quite popular among younger music fans. It is also very easy to learn on the ukulele as it only features four basic chords, G, Em, C and D. 
Written by Ed Sheeran, I Don't Care is also very fun to play and learning it will help you build your chops for more complicated uke pieces. As a matter of fact, the chord progression employed here is also used in countless other songs. Learn it well as it is a great choice to add freshness to your easy uke song repertoire.
Wonderwall is arguably the most-played song from the 90s. This massive hit is a modern-day classic, and has remained one of the most popular songs for guitar covers for over 25 years. This song also fits nicely on the ukulele, and features easy chords and a simple progression.
So add some spice to you playlist by busting out this anthem from Oasis on you uke. 
Learn to Play the Most Covered Songs on Ukulele Now
And there you have it — 7 easy song covers to learn on ukulele. You should try to learn both new and old school pop songs on the ukulele. This will help you find your comfort zone easier. Mistakes are bound to happen but don't get frustrated, take a break and try again.
Can't get enough ukulele songs? Then check out these guides: