5 Best Songs To Practice Downpicking
by Rodrigo Sanchez, Feb 15, 2021 . 4 min read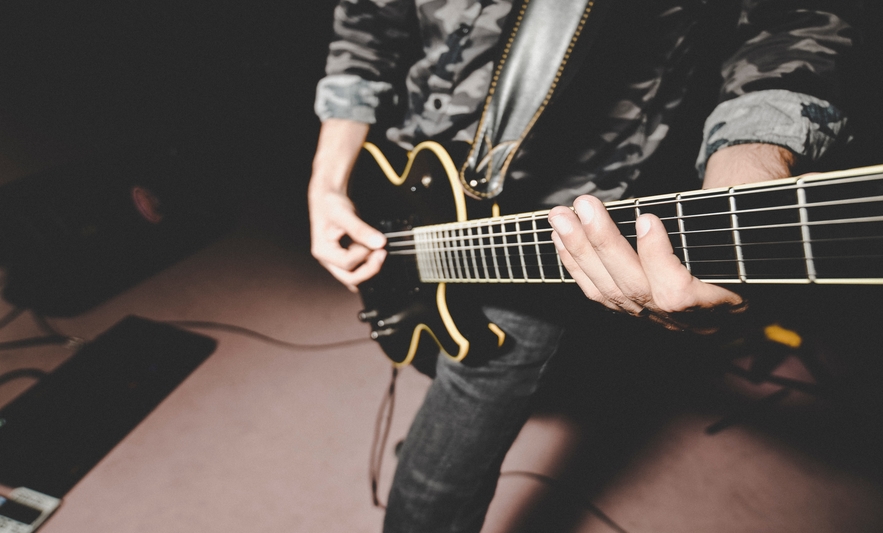 These 5 best songs to practice downpicking will be quite beneficial for your playing. They basically guarantee you will improve as a player if you have a good practice routine.
Yes, they will help your downpicking and much more. You will improve your right hand/left-hand coordination, your sense of time and rhythm, feel, etc. After all, these things are all connected. And in case you are wondering, they will also develop more facilities for playing killer solos. These songs are fun to play and will benefit your playing greatly, especially when combined with some downpicking exercises. So tune-up and let's dive in on the 5 best songs to practice downpicking. 
This song is a classic by one of the greatest heavy bands ever. "Master of Puppets" will give you a run for your money from the get go. The guitar work of James Hetfield and Kirk Hammett is stellar, and "Master of Puppets" is further proof of that. This song also has that initial Metallica sound that was specially aggressive and with tons of downpicking throughout. When you practice this song, the goal should be to match the rhythm guitar part, all the way to the accents.
Another Metallica song? Well, yes! That's how it is if you take the paradigm of downstrokes in metal to millions of fans worldwide for 40 years. Metallica is the blueprint for downstroke and is therefore the best place to start your downpicking journey. And in all fairness, you could just stay with Metallica for quite a bit, developing your downpicking chops and much more. "Welcome Home (Sanitarium)" is a bit more musical and sophisticated than the previous song, but still with that early-Metallica rawness. 
A great cut from the seminal Slayer album Season in the Abyss. "Dead Skin Mask" will help you work on your downpicking with a bit more variety in the rhythms. Once again, be careful with the accents and how guitar hero Kerry King places them. Try to play evenly and remember to start slow and gradually increase the speed until you can play along with the recording.  
This song is especially great to work on your time while downpicking. It features a lot of space thanks to the interplay between the main guitar riff and the drums. There is also muting involved to create staccato rhythms. "Symphony of Destruction" is also a great song to work on muting all strings that don't need to be played, precisely because of its openness in the main riff.
"Duality" is a modern take on downpicking in Metal. This song will be a special challenge due to its fast downpicking riffs. A metronome will be quite useful while working on "Duality". Figure out the riff first, then slow it down until you can comfortably play it. Once you find that tempo, slowly increases the speed until you match the recording. Don't worry if it takes weeks. Time and consistent practice can overcome any playing obstacle.
The 5 best songs to practice downpicking are fun and challenging at the same time. Take them one at a time and be patient. Remember that consistency and focus are the most important factors when it comes to practicing music. The best course of action is to practice every day, even if it's just 30 minutes. Make sure you are fully concentrated on the task, and not just jamming aimlessly. Deliberate and focused practice is harder than just playing, but it's the strongest and surest way to becoming a better guitarist. Feel free to leave us a comment with other great songs for downpicking. 
Get our free Alternate Tunings Guide!