5 Facts About Guns N' Roses
by Rodrigo Sanchez, Jul 16, 2021 . 6 min read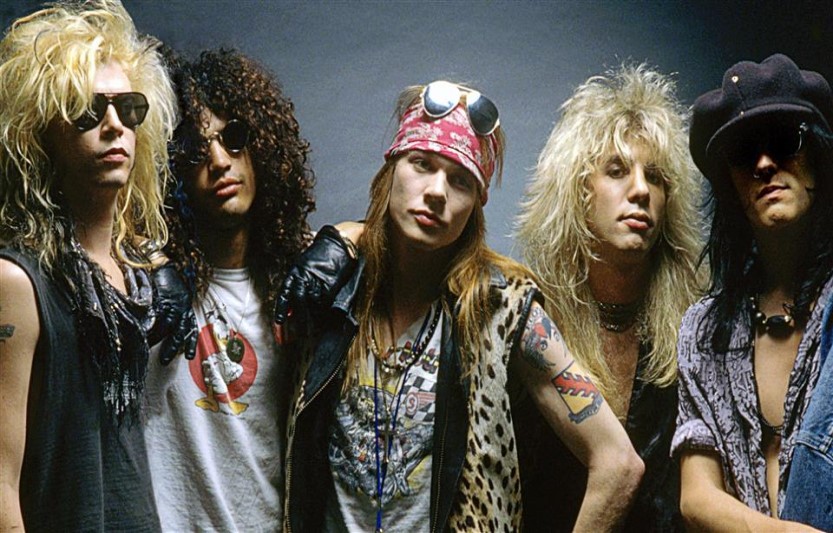 These 5 facts about Guns N' Roses can help us understand why they became one of the biggest rock bands ever.
The five members of this Los Angeles hard rock band went from living hand to mouth to becoming global superstars over just a few years. Their fame reached far and wide all over the world and they remain one of the best known and most beloved rock bands ever. 
Sure enough, they have had their share of troubles over the years, to the point of being labeled the most dangerous band in the world. Naturally, this only led to the press having even more interest in the band. Despite being inactive for over 20 years, Guns N' Roses still sell-out stadium tours all over the world, as demand for the band remains extremely high. Here are the 5 facts about Guns N' Roses.
They have the best-selling debut album of all time
Appetite For Destruction is Guns N' Roses' first album, released in 1987. It is also the best-selling debut album by any act ever. It has sold over 30 million copies and remains one of the greatest rock albums in history. However, it took a while for that to happen.
At first, Appetite for Destruction was not selling well. MTV refused to play the videos and radio stations did not want to give Guns N' Roses any airtime. That all changed when Geffen Records A&R man and GNR's main supporter Tom Zutaut begged David Geffen (owner of the label) to personally request a favor from his friends at MTV. Geffen reluctantly asked MTV to play the video for "Welcome to the Jungle".
MTV agreed to play the video from the unproven band at the worst time slot possible: 4 am on a weeknight. It was all that was needed. As soon as the video played, the calls started to come in. In fact, so many calls came in that MTV's phone switchboard caught fire. People wanted to know who this band was and wanted to see the video again. The rest is history.
They made the most expensive rock album of all time
Guns N' Roses underwent a radical transformation in the '90s in which all but one of the original members remained with the band. By 1997 lead singer Axl Rose was the sole member of Guns N Roses and started working with a series of musicians for hire. He took over a decade to produce and record Chinese Democracy, the band's fifth album. 
Studio time is expensive, especially at the world's top studios and with the top engineers that cater to superstars. How expensive? Well, by the time Chinese Democracy hit the market, Guns N' Roses had spent over 14 million dollars on it, making it the most expensive rock album ever. How could anyone afford that, you might ask? Read on…
They have the third best-selling tour in history
The main core of the original lineup got back together in 2016 for a tour. Guitar legend Slash and bassist Duff McKagan had left the band in the mid-nineties but resolved their differences with Axl Rose. The idea of collecting half a billion dollars on the road probably helped the rockers put their past issues aside. 
After two decades of not being on speaking terms, Axl, Slash, and Duff teamed up for the Not in This Lifetime Tour. Turns out fans really missed the original Guns N' Roses, as over five million people attended this tour. It made them over 584 million dollars and extended into subsequent tours. Yes, the demand is still high and Guns N' Roses will hit the road again once Covid eases up.
Why such a peculiar name for the tour? "Not in this lifetime" was Axl Rose's response to a question on whether the original Guns N' Roses lineup would ever get reunited.  
They recorded a full album of covers
Guns N' Roses' discography is rather short. It only features three albums of original music by the original band members, and then the aforementioned Chinese Democracy. However, it is the first three albums that feature all the hits and anthems the band is known for. 
In 1993 they released The Spaghetti Incident?, an album composed of 13 covers of mostly punk and hard rock songs.
As expected, this was their least successful album. It still sold in the millions of units, but far less than their previous works, which were all best sellers. They had recorded other artists' songs before, for example, "Knocking on heaven's door" by Bob Dylan, but never a full album of covers.
Naturally, controversy had to be part of the package. This time it came in the form of a hidden track. The song "Look at your game girl" was written by notorious convicted murderer Charles Manson, and was included as an unlisted track. The Spaghetti Incident? was the only Guns N' Roses album not supported by a tour, as the band disintegrated shortly after its release.  
They never won a Grammy
Guns N' Roses is one of the best-selling acts of all time. For over thirty years they have been in incredibly high demand in all five continents. Their members are some of the most respected rockers ever; symbols for all of rock's greatness, excesses, and debauchery. However, the band has not won a Grammy award. To be honest, they probably don't care either. 
The band was inducted into the Rock N' Roll Hall of Fame in 2012, the first year for their eligibility. However, Axl Rose didn't even bother to show up. He even wrote them a letter asking not to be inducted. After all, if you have millions of screaming fans everywhere you go, a bank account filled to the brim, and an endless supply of everything that might ever appeal to you… do you really need a Grammy?   
These 5 facts about Guns N' Roses seem to defy reason. An album that sold in the millions is considered a flop? Yes, it may be if you're one of the biggest bands to ever walk the earth. Sure enough, Guns N' Roses has many haters, but that just seems to be the case for anybody that reaches massive success. 
They've had their share of troubles: riots, arrests, severe addictions, endless lawsuits and more. But the music they made 30 years ago is still listened to by millions. In addition, since their reunion in 2016, dates for their tours constantly sell out and they are poised to come back to high demand once conditions stabilize around the world. 
Subscribe to Gain Access to our Alternate Tuning Library & Accompanying E-Book Guide
Discover the origin of the most popular tunings, some less-known facts, AND most importantly, learn how to play songs in your desired tunings.