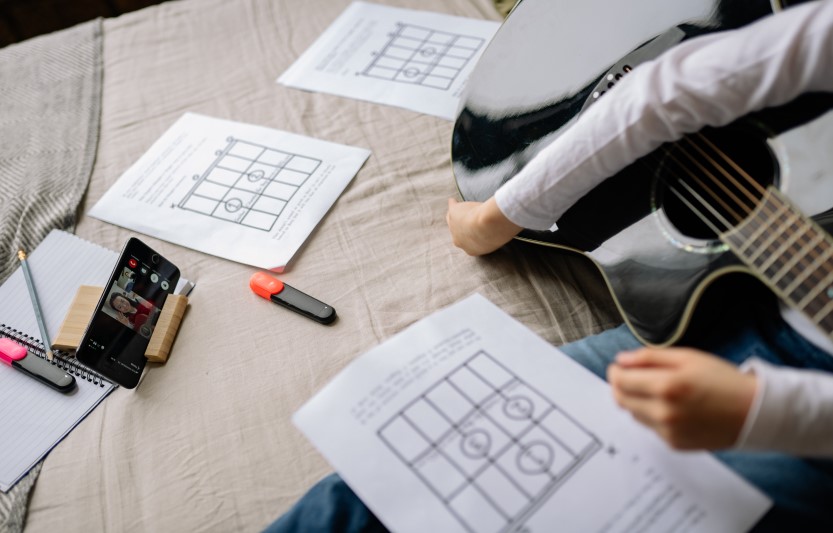 Today we're going to look at the best youtube channels to learn guitar. There are seemingly endless resources on the web, and YouTube has become a premier place to go to learn guitar.
However, there are also a lot of mediocre guitar lessons on YouTube. Here we are going to share a few channels that will help you grow as a guitarist, as long as you also practice.  
In addition to YouTube, another great tool that can help you grow as a guitarist is Roadie Coach. It can function as a partner that tracks your progress and gives you detailed info on how to improve. Coach allows you to record your practice sessions so you can zoom in on techniques or musical passages that are troublesome. This tool stores and manages all recordings automatically, and comes with an interactive app and a library of songs. You can learn these songs at different speeds, slowing fast passages to make them easier to understand. In short, Coach is a great tool for dedicated musicians. Without further ado, here are the best youtube channels to learn guitar. 
Marty Schwartz is an upbeat and energetic guitar teacher with tons of great videos on YouTube. He teaches everything from how to play certain songs on acoustic guitar, all the way to specific techniques on both electric and acoustic.
Marty uploads videos on a daily basis, so it is impossible for you to get bored. There is something for every level at Marty Music, so you can stay inspired and challenge yourself when need be.
Additionally, Marty also offers more personalized courses and much more for those that are willing to pay for specific courses or lessons.
JamPlay features lessons from teachers in all kinds of styles, techniques, and contexts. Their teachers go from touring musicians on famous bands, all the way to legendary educators and Grammy winners. 
Are you interested in learning how to play funk rhythms based on a minor chord progression? How about discovering how to play an authentic Rumba Flamenca strum on nylon string guitar? 
Whatever your interest, style, level, and genre, JamPlay is likely to have a dedicated teacher for your needs. 
Since You're Here…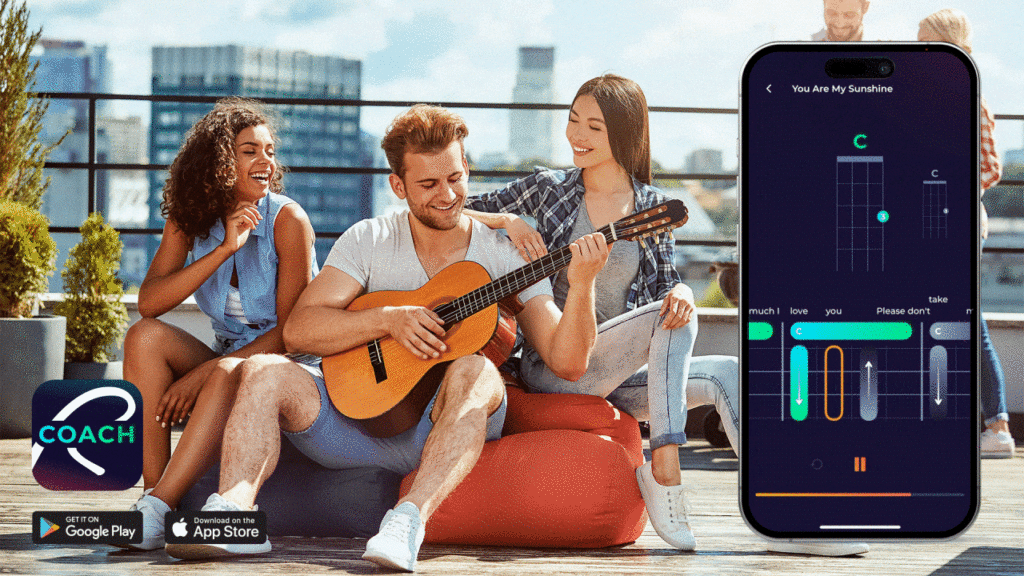 Fast-track your guitar learning journey, with the Ukulele and Guitar Coach App by Roadie Music. (iOS | Android)
Although not a YouTube channel, this option is just as much, if not MORE efficient than learning on YouTube. This is the first and only AI-based guitar and ukulele learning app that listens to you play and guides you with customized feedback, just like a music teacher would. Coach will mainly help you:
Discover & master ANY chord
Practice strumming patterns
Learn any song from scratch & at you OWN pace
Get personalized feedback on skills that need improvement
TrueFire offers a comprehensive guitar education online, with part of its lessons available on YouTube. It has an amazing collection of teachers, some of them legends in their own right. For instance, there are some lessons from blues master Robben Ford. 
Besides being a formidable player, Ford is excellent in front of the camera and displays joy in sharing his findings on the guitar. He is also quite articulate and easy to understand. 
There are many lessons on TruFire's YouTube channel, and they are one of the best YouTube resources for guitar players that are serious about their progress. 
Rick Beato is one of the most popular YouTube channels for musicians, especially guitar players. A guitar player himself, Beato has many lessons on a variety of subjects relating to the electric guitar.
However, this channel goes well beyond lessons. It features interviews, thoughts, music theory, and audio engineering concepts as well.
Some of his interviews are quite popular, including the recent ones with Sting and Pat Metheny.
This is a great channel to broaden your horizons as a guitar player. After all, there is much more to being a guitarist than being able to play a scale.
Andy Guitar has over a million subscribers on YouTube as well as his own dedicated site where you can find in-depth lessons. Andy's appeal stems from the fact that he is a great teacher. He is able to communicate concepts and techniques in a way that are very easy to understand, even for beginners.  
His starter lesson walks you through some of the essentials, such as the basic proficiency to play chords. His YouTube page is also very well organized, so you won't have to waste time jumping back and forth. Once you master one lesson, you will know exactly where to click for the next lesson. 
The Music Is Win YouTube channel features a plethora of guitar lessons that are fantastic. Everything from chord progressions, scales, bending, and much more. These lessons are also easy to follow and just the right amount of time.
Besides lessons, Music Is Win also features thought provoking videos that deal with a variety of issues related to the guitar. From rock stardom to what not to do at a music store, this YouTube channel is as fun as it is educational.
Additionally, they have a great series of videos that deal with the guitar habits of legendary players. Each video is dedicated to one famous player, and they are very well made.
On this YouTube channel, you can learn several techniques in short videos. This might be one of the best sites for those that have a short attention span and cannot take videos that last more than five minutes.
The "technique of the week" features less than two minutes of instructions, but is quite effective.
Additionally, there are interviews with Fender artists, which offer unique insight into their process, practice routines, life on the road, and much more.
The cherry on top of the cake is that on this YouTube channel you will stay up to date on new Fender guitars and amps released, as well as anything in between. 
This list of the best YouTube channels to learn guitar offer tons of valuable content. Please never take for granted that nowadays we have so much knowledge at our fingertips. In the days of yore, you'd have to find a VHS instructional or books and magazines to get this info.
Naturally, you still need to spend quality time with the instrument to practice. 
Are there some guitar lessons YouTube channels that you like and are not mentioned here? Please let us know in the comment section!