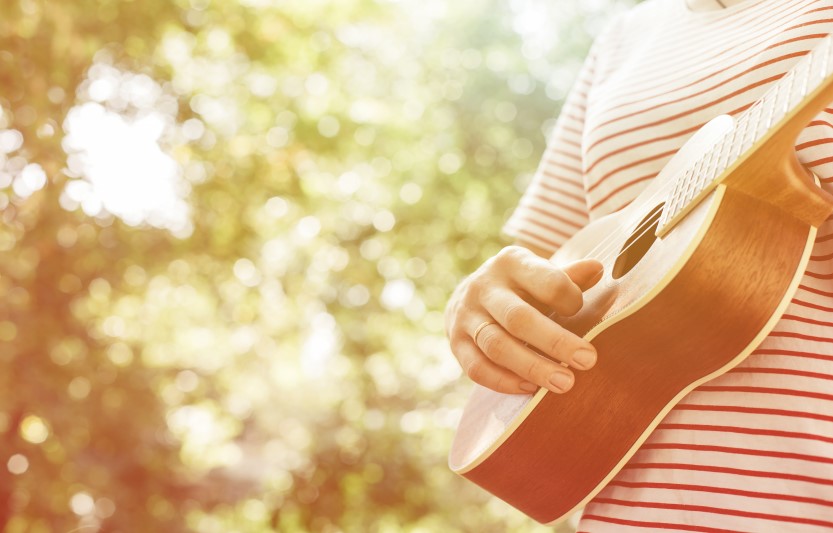 The ukulele has seen a considerable popularity surge in the past years. This surge has been so pronounced that even major brands like Fender and Cordoba started producing ukuleles.
After all, it is such a fun and convenient instrument to play. You can take it anywhere: beach, camping, park, you name it. It is easy to store, easy to play, and inexpensive. What's there to not like? But of course, if you have one, the whole point is to play it. Before you force-quit me into oblivion, let me give you some encouraging news. You can easily learn a good amount of songs on your ukulele. And I mean songs that you actually like. 
And now let me give you even better news: with only four chords, you can learn a bunch of fun ukulele songs very quickly. And these four chords also happen to be some of the easiest you can learn on the instrument. Without further ado, here are eight easy ukulele songs you can learn in one day.
This is one of the best-known songs by the legendary Irish band. The chord progression is C, G, Am, F. You're gonna strum each chord four times, always downwards. "With or Without You" is a beautiful and famous song that also happens to be quite easy. And it is even easier in the ukulele. Besides employing four of the easiest chords for the ukulele, the chord progression never changes. That means that the order in which the chords are played is always the same. It stays the same from the very beginning to the very end. It does not get any easier than this.
Another classic song that will melt hearts instantly. As long as you play it well, that is. Here, we'll be using the same chords but in a different order. The progression of "Stand By Me" is C, Am, F, G. Here we'll also use downward strums as well. Strum the first and second chord (C and Am) eight times each. Then strum F four times and G four times. That's it. That is the song from top to bottom. I told you it would be easy, pal.
The chords on this immortal song by Bob Marley are C, G, F, Am. For the verse we have two strums on C, Am, F and C. For the chorus, you'll strum the C and G four times each. Then strum the F, C, G, C two times each. Then repeat from the top. All of the strums are downwards. Still an easy song, with the minor challenge of counting strums. 
"I'm Yours" is what you might call a "new classic". This song is still immensely popular and it's just as easy. The chord progression is C, G, Am, F. If you are paying attention, you'll notice it's the same order as "Let It Be". The only difference is that in "I'm Yours" you'll be doing eight downstrokes per chord. That is the whole song. Yup, that easy. 
In this catchy Train song, we'll start with the progression C, G, Am, F for the verse. Just strum each chord downwards four times. And for the chorus strum F and G eight times each. You could make the chorus fancier. After you strum the F eight times, strum the G twice, then C twice and back to G four times. Sounds complicated but it's not. This is still very easy. It's just that the first version is super easy. 
Since You're Here…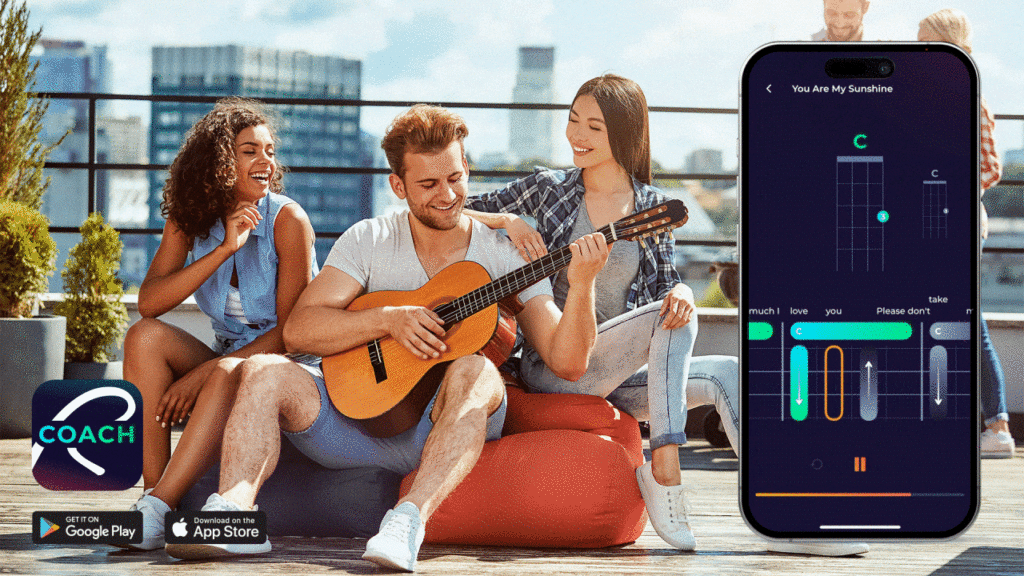 Fast-track your guitar learning journey, with the Roadie Coach App by Roadie Music. (iOS | Android)
This is the first and only AI-based guitar and ukulele learning app that listens to you play and guides you with customized feedback, just like a music teacher would. Coach will mainly help you :
Discover & master ANY chord
Practice strumming patterns
Learn any song from scratch & at you OWN pace
Get personalized feedback on skills that need improvement
Another classic Bob Marley song that is sure to please an audience. To make sure it is very easy, this song has been transposed down. It features the chords C, F and G.  As we know by now, all of these are easy ukulele songs that you can master quickly. 
Additionally, this song features the easiest of all strum patterns for the uke. Just down strokes on each beat. Despite being easy, this pattern can go a long way for many songs, and Three Little Birds is one of them.
A nice and very popular song by Bruno Mars. Count on Me is also an easy song that you can learn with the use of the basic ukulele chords. The harmony is composed of C, Em, Am, G, F, Dm. To go with these easy chords, Count on Me also features an easy strum pattern. Here you are going to do D D DU DU. This pattern is rather common and will come in handy for many other ukulele songs. 
This is a classic song by John Denver and features only three chords. It is easy to learn, with a simple form and a bare-bones strumming pattern that is very effective. Leaving on a Jet Plane is a great song to start learning the uke with, as it also features simple lyrics and a structure that is not hard to remember.
The strum pattern in D DU UDU and the chords are G, C, and D. In other words, a fantastic song if you are starting out on the instrument.  
There are some great resources for learning the ukulele today. With just four chords you can easily learn eight songs in a day. And of course, you can do that with any instrument. It just won't be as easy. How nice it is that the easiest chords on the uke also yield a massive amount of songs! We listed only a few here, but there are many more that use just these four chords. Once you have them down you can move on to other ukulele songs that employ other chords, and then onwards to more challenging songs. Feel free to leave a comment with the ukelele songs you'd like to learn.