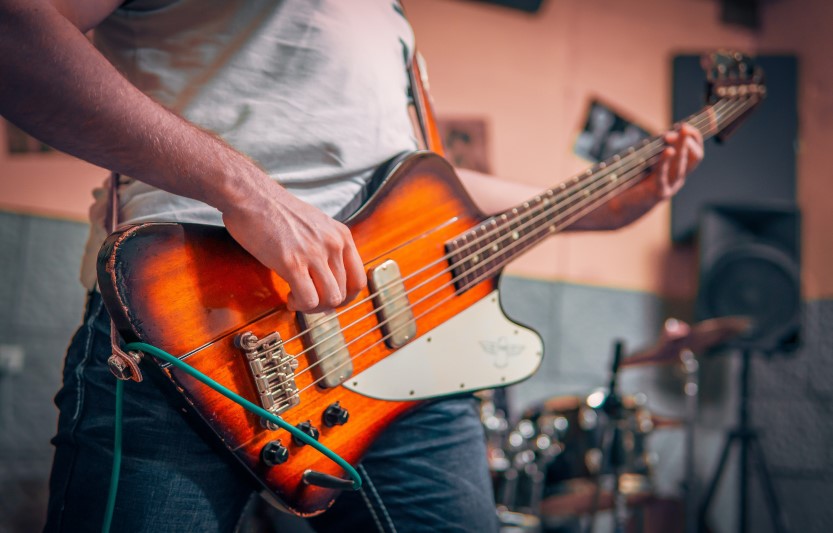 Today we're giving you the best bass guitars for beginners. This list features several affordable options for you to start playing this wonderful and often misunderstood instrument. 
Some people think of the bass as "a big guitar". However, nothing could be further from the truth. Although the last four strings of the bass are comparable to the last four strings of the guitar in pitches, these two instruments are quite different. 
Simply said, the bass lays the foundation upon which the song rests. So much of what happens in music is defined by the bass. To state it another way, when a bassist in a band makes a mistake, most people notice it. This is not true of other instruments like the guitar and even the drums. The bass is nothing short of the lifeblood of music. Without further ado, here are the best bass guitars for beginners.
The Yamaha BB234 bass is further proof of why Yamaha is among the best instrument makers in history. This bass is a well built instrument and a fantastic choice for younger players or anyone else on a budget.
It features a vintage flair on a modern body shape and design and gives you a warm and rich sound. 
This bass is good for playing most styles, especially rock, pop, and R&B. If you are a beginner, you can't go wrong with the Yamaha BB234 bass guitar.
Before we continue with this list of best bass guitars for beginners, we have to tell you about Roadie Coach. This is an incredible tool for musicians and can be especially effective for beginners eager to learn and have fun at the same time.  
Coach can conveniently attach to your bass and offer instant feedback on how to improve and make the most out of your time. 
With two microphones included onboard, Coach stores and organizes all recordings automatically, which can be used to understand the strengths and flaws in your playing.
It comes with an interactive app that features easy-to-follow visuals and a step-by-step approach that will fit any level. 
Additionally, Coach also comes with a library of songs that can be played at different speeds. This is a fantastic resource to learn at your own pace and improve at your own pace.
A beautiful bass guitar from one of the most popular and affordable brands in the market today. Squier is renowned for offering solutions for players that are on a budget. Under the umbrella of the legendary Fender brand, this company is among the most sought-after for beginner bass guitars and guitars as well.  
The Squier Classic Vibe 60s Jazz Bass is a nice choice for playing rock, pop, jazz, country, and anything in between. Besides featuring a nice and balanced sound, this bass also looks the part. It features a vintage design with several color options so you can choose the model that you want. 
The SUB bass from Sterling by Music Man is known as the "Sports Utility Bass,". This bass is designed based on the world-famous Music Man StingRay bass but features a price that is truly affordable and will appeal to beginners. 
This instrument is perfect for playing a variety of styles, from funk to classic rock, Latin, or even metal. 
It features a StingRay neck profile for a fantastic playing feel. You also get a fully adjustable bridge so you have full control over string height and intonation. In short, a great and versatile option on a budget. 
The Ibanez Mezzo is a great bass guitar for beginners, from one of the premier makers of stringed electric instruments. This bass features a shorter scale and fantastic playability, two great advantages for folks just starting out.  
This instrument also gives you some nice sound options. It features a classic active P-Bass voice, with a single-coil/split-coil configuration and an active 2-Band EQ and balance control. 
With this bass you can play many styles, including jazz, funk, rock, fusion, and many more. In short, a versatile, well-built, nice-sounding bass by one of the most popular electric instrument companies.
If you are looking for something truly unique, the Epiphone EB-O bass is for you. This instrument gets the job done, sounds good, is affordable and features a striking look. 
It features a big, fat and punchy sound that will fill up just about any room. Additionally, the Epiphone EB-O bass features a short 30.5" scale and a slim D profile neck. These features greatly aid playability and will make life easier for beginners. 
Although you can play several styles on this bass, it is especially strong for rock, and takes overdrive and distortion very well.  
The Spector Performer 4 features more sound options than most beginner basses. Additionally, it has nice playability, is affordable, and looks ready to rock on stage. 
This bass comes with a fantastic body shape with great balance and proportion, both features uncommon at this price.
This bass guitar is great for beginners and will sound good with many styles, including rock, pop, jazz and metal. 
We're sure that this list of best bass guitars for beginners has an option that appeals to you. Whatever you choose, they all come from great companies with decades of tradition and respect in the industry.
Remember that once you have your bass, practicing it is key to progress. Set aside a space and time of the day to do deliberate and focused practice. It can be just 20 min per day, but make sure it happens every day. Once you can play a bit, try to get together with a friend that plays drums, guitar, or any other instrument. Playing with other people is also an invaluable experience to have when learning an instrument.
Try to stay inspired, learn to deal with frustration, and most importantly… Have fun! Please let us know in the comments section below which bass in this list you prefer.