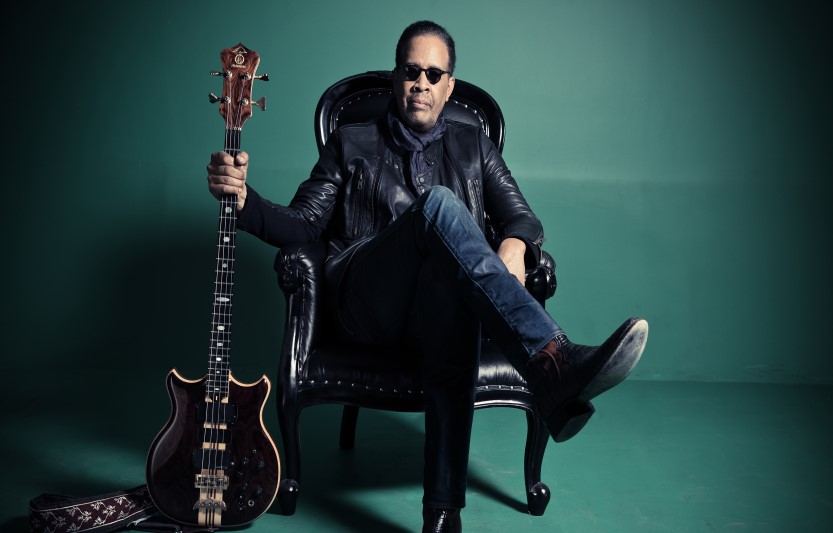 The 5 best bassists of today are nothing short of incredible. You could make an argument that they are underappreciated, despite the fact that they are respected the world over.
And that is because the bass is the most important instrument in a band. However, many people don't understand what a bass player does or plays. Some even think that they just play a bigger guitar with fewer strings. It should be easier right? Wrong! Good bass players have an uncanny sense of time, impeccable groove, fantastic tone, and are the life of the band, at least from a purely musical standpoint. Those attributes are not so common to find, but the names of the list below are prime examples of superior musicality and ability. Here are the 5 best bassists of today. 
It is really hard to be really good at one thing, and it is close to impossible to be really good at two. But not for legend Stanley Clarke. He flies on electric bass as well as an upright bass. You might say "well they are both basses right"? They are, in the same way, that a bicycle and a 747 jet are means of transportation. Stanley Clarke flies and shines on both instruments, displaying an unsurpassed level of technique and musicianship. This five-time Grammy award winner is also one of the founding members of iconic fusion band Return To Forever.
A true magician of the instrument. To watch Victor Wooten play the four-string bass is to be in awe of his incredible prowess. His tone, note choices, time, groove, and a special sense for melody have made him a living legend. He is regarded by his peers and the music industry as one of the top musicians in the world today and has also won five Grammy awards and is a member of jazz and bluegrass band Bela and the Flecktones. A truly gifted player that is a joy to listen to and watch.  
The world got a taste of Marcus Miller when he joined the band of the ultimate musician: Miles Davis. Miller then quickly rose to star status by showcasing his funk chops and fat tone with the Miles Davis band. Moreover, Miller also penned some of the best known Miles Davis band tunes from the era, including the classic Tutu, featured in the album by the same name. From then on, Marcus Miller became one of the hardest working bassists, playing in albums for stars like Beyoncé, Mariah Carey, Eric Clapton, Herbie Hancock, Frank Sinatra, Elton John and more. 
Tal Wilkenfeld was still a teenager when she started playing with some of music's biggest legends. Her incredible tone and sense of time caught the ear of The Allman Brothers Band and their guitarist (Derek Trucks) extended her an invitation to jam with them at the Beacon Theater in New York. Wilkenfeld has worked with musicians such as Prince, Jeff Beck, Eric Clapton, Mick Jagger, Herbie Hancock and Chick Corea. In addition to this impressive resume, Wilkenfeld is also a songwriter and has recorded several albums as a solo artist. 
You could say that Michael Manring took bass playing to another planet. Most of his basses are custom made to produce sounds and reach notes that conventional basses cannot. Manring uses these modifications to impress crowds everywhere in the world and is well known for his solo performances that take the listener on quite a journey of impressive musicianship. He worked extensively with fingerstyle guitarist Michael Hedges as well as Deep Purple's guitarist and virtuoso Steve Morse. 
The bassists above are great examples of superior musicianship and taste and they undoubtedly have spent countless hours working on their instruments to get to their level. Their music has influenced countless souls and should inspire us all to practice our instruments and follow our muse. As with any list, it's impossible to include everyone that deserves to be mentioned. Feel free to leave us a comment with your favorite bass player.