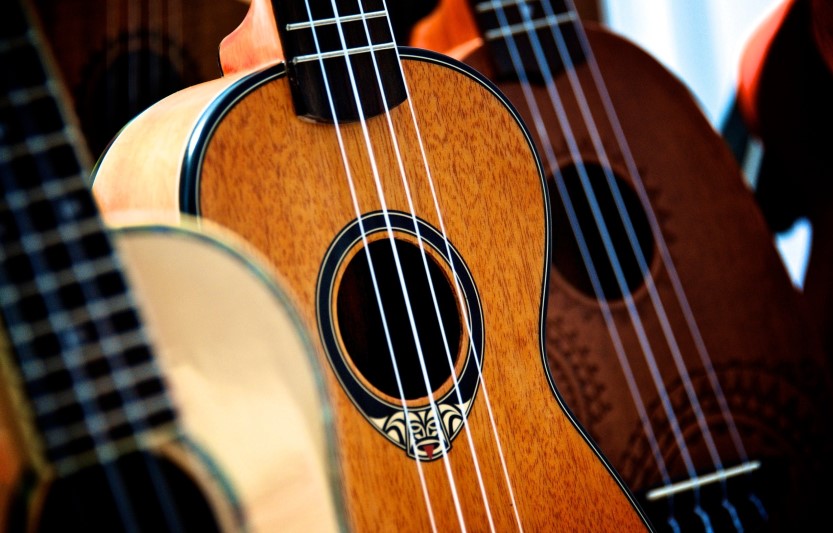 Welcome to Learning Ukulele: The Ultimate Guide. Here, you are going to learn everything you need to know about learning this wonderful instrument.
In this guide, we're going to answer the most common questions relating to learning the uke, shed light on some related issues, and dispel some myths that may hinder your progress.
The popularity of the ukulele has skyrocketed, particularly in the last decade. This is due to three simple and extremely convenient factors that make this instrument quite appealing. Firstly, the ukulele is cheap. Even if you get an "expensive" model, it will likely be cheaper than most other instruments. Secondly, they are easy to learn. Sure, you will have to spend some time with the instrument, but you will likely be able to play it quickly. Thirdly, they are portable and easy to store. You can carry a ukulele anywhere, as they take very little space. 
As for the perennial question of how long it takes to learn to play ukulele, the most honest answer is it depends. If you do focused practice for 30 minutes a day, you will be playing simple songs within a week. On the other hand, if you pick the uke once a month, it may be well over a year. It all depends on you!
So get ready to start having loads of fun. Without further ado, here is your ultimate guide for learning ukulele.
Buyer's Guide
In order to learn an instrument, you need to have one. So we've put together this brief buyer's guide so you can inform yourself and get to know the ukulele for you. 
There are four main types of ukuleles, and they are distinguished by their size. The smallest one is the soprano, which also happens to be the most common. Next, we have the concert uke, which is a bit bigger. It is followed in size by the tenor, and finally the baritone uke. 
There are other sizes of ukulele, both smaller and bigger, but those are not as common. As varied as the sizes can be, the materials used in the construction of the uke can also vary greatly. This mostly applies to the woods used but can extend to other details like the tuners, nut, etc. These choices also have an impact on the price of the uke.
The great thing is that you can get a good ukulele for less than 100 dollars. These instruments still have good quality and will surely get the job done. This is especially true if you are just a beginner.
Great Beginner Ukuleles Under $100
Looking to embark on your ukulele journey? Delve into our guide on the finest budget-friendly Beginner Ukuleles that won't leave you with buyer's remorse. We've handpicked three stellar options under $100 from renowned ukulele brands that cater to both beginner and intermediate players.
Despite Kala's reputation for premium ukuleles, the KA-15S stands out as a budget gem. Crafted with a mahogany neck and body, this entry-level model retains Kala's commitment to quality. Its comfortable playability is enhanced by the Graph Tech Nu Bone Saddle and Nut, surpassing expectations at this price range. This soprano ukulele boasts a cheerful, bright tone that embodies all the qualities sought by novice players, offered at an impressively affordable sub-$60 price point.
Luna Guitars, known for their high-quality stringed instruments, extends their craftsmanship to ukuleles. The Tattoo Concert Mahogany Ukulele not only shines in tonal performance but also boasts a distinctive visual appeal. Its engraved Honu design, inspired by the Hawaiian turtle symbolizing longevity, adds a captivating touch. The design, laser-etched for enduring charm, even extends to the rosette. Luna's attention to detail elevates this ukulele's aesthetic and sound.
Cordoba, celebrated for their Spanish guitars, delivers exceptional value in the sub-$100 realm with the Cordoba 15cm Concert Ukulele. Its craftsmanship is evident from the shimmering abalone-style rosette to the luxurious natural mahogany satin finish. The slightly deeper body contributes to a warm, resonant tone, setting it apart from competitors. Transitioning guitarists and beginners seeking more fretting room will appreciate the ukulele's extra-wide 38mm nut. This ukulele is the ideal choice for those seeking an elevated beginner experience.
Read more here.
Getting A Ukulele Teacher
Since these ukes are quite inexpensive, you may want to consider spending some money on lessons. Getting a ukulele teacher may be of great help to learning it the right way from the beginning. However, know that this is not mandatory, and many folks have learned the uke just fine on their own. But if you decide to, here's what to look for in a uke teacher: 
Passion and Enthusiasm
Discover a tutor who exudes passion for music education. Their dedication can transform learning into an enjoyable experience, counteracting the misconception that music is difficult. Sharing their excitement can make ukulele learning genuinely fun.
Expertise
A tutor need not hold a doctorate, but understanding the instrument's mechanics and providing a step-by-step approach is crucial. Realistic timeframes for learning are valuable. Seek guidance encompassing all aspects of ukulele playing, offering personalized insights unmatched by generic online resources.
Patience and Consistency
Weekly lessons combined with regular practice is the foundation of improvement. Both you and your tutor must exhibit patience and consistency. Daily practice is key, and strategic goals—like mastering chords and renowned songs—maximize progress. A dedicated tutor tailors weekly assignments to your pace and objectives.
Read more here.
Tuning Explanation and Tutorial
Tuning your ukulele is crucial. An out-of-tune ukulele will not allow you to learn, and will just sound terrible. The good news is that is relatively easy to tune a uke.
The first thing to understand for tuning your ukulele is that each string has a pitch. Hold your ukulele as if you were going to play it. The string closest to the floor or your lap is the first string and the one closest to your face is the fourth string. The 1st string is tuned to an A, the 2nd string is an E, the 3rd string is C, and the 4th string is a G. The tuning pegs turn clockwise to tighten the strings and counterclockwise to loosen them.
#1: How to Tune A Ukulele With a Roadie Tuner
This is by far the fastest and easiest way to get the job done, so we're going to cover this method first. The Roadie 3 will already come with a range of tuning presets, including for the ukulele. Select the one you want, place the Roadie on the tuning peg, and boom. Ukulele tuning sorted. You can watch David Campbell do it here in one minute with a Roadie 2:
#2: How to Tune A Ukulele With An App
There are an abundance of tuning apps for ukuleles, some of them included in regular guitar tuning apps. The basic features will be free, but they usually charge you for the bells and whistles. (Hint: Don't pay for advanced features –l just get the Roadie Tuner app here: iOs & Android). Check out a couple of the most popular ones here:
This video is likely the best way to see and understand how tuning a ukulele is. 
For more ways to tune your uke, check out this article.
The Basics: chords and strums
Simply said, you will play chords with your left hand and strum with your right hand. In other words, your left hand will be the one responsible for pressing the strings individually in order to create chords: the building blocks of uke playing. At the same time, your right hand will strum the uke right in front of the sound hole, in order to make a sound. Both hands work in tandem and must be accurately coordinated. 
Strumming
There are several strumming patterns for the uke. In this guide, we're going to give you the two simplest. These two strumming patterns will allow you to play a plethora of songs, as soon as you can play a few chords.
The first pattern to learn is down, up, down, and up. All you have to do is strum down, and then back up, and repeat that. Do it slowly at first, and then repeat until you start to get the hang of it. 
The next pattern is down, down, down, down. This one is almost self-explanatory. Simply strum downwards on every beat. Try to hit all strings evenly and do not rush. 
Chords
Chords are the result of you strumming two or more notes at the same time. They are the building blocks of harmony. You will be playing chords almost all the time when playing the uke, so make sure you learn them well. 
To play chords, you need to place your fingers on specific string at specific frets. The frets are spaces divided by lines along the fretboard. Your first fret is the closest one to the headstock of the uke, and it goes up from there.
That said, let's play the F chord. Place your finger 1 (index finger) on the second string first fret. Then place your second finger (middle) on the fourth string second fret. There you have it, your first ukulele chord is an F! 
Now let's learn a C chord. Use your ring finger (3rd finger) and place it on the 3rd fret of the bottom string (1st string). There you have your C chord.
Once you get the hang of playing chords, you are ready to learn some easy ukulele songs. 
Easy Ukulele Songs to Start with
In 2016, we lost no less than 30 of the most well-known and beloved athletes, actors, and musicians of the 20th century. Among them, was the genius behind the first song on our list, Leonard Cohen. While playing "Hallelujah" on ukulele might seem strange, the instrument doesn't take the energy out of the song. This is a great song for learning how to build up intensity through chords. "Hallelujah" starts softly, but through each verse, the song intensifies. Mastering the song will also teach you how to gradually raise the volume.
In 2011, this song was pretty much unavoidable. It was Adele's first number-one UK single and most critics feel that the song is the highlight of her Grammy-winning album "21." It's also fairly easy to play on the ukulele. It has a pretty straightforward strumming pattern and since Adele's voice carries the original track, there's also some room for improvisation here. How should you accentuate the song? It's entirely up to you. You can slow it down to make it more interesting or you can speed it up to give it a more pop feel.
The Beatles really wanted to make "Let It Be" something special and worked on the song for almost three years, recording several versions of it during that period. Although it was recorded nearly four decades prior to it, the song has the exact same chords as Adele's "Someone Like You." However, it has a slightly more complicated chord pattern, which changes during the chorus.
Everyone knows this 1960s classic. But what many people don't know is that "Can't Help Falling in Love" was actually based on an old French song called "Plaisir d'Amour," which was composed way back in 1784. There are many ways you can play this classic on the uke. You can play the standard chord progression in the beginning but once you get better at it, you can start adding your own flavor to it. A good idea would be to listen to the original French version for inspiration.
This is one of the sweetest and most enduring songs from the last century. It has been covered by many artists and features a simple chord progression and strum pattern.
Stand by Me is one of the premier ukulele songs to play and it also happens to be one of the easiest. The chords on this song will help you when learning many other songs, as they are quite common and central to playing the uke.
This song is one of the biggest hits in recent years and is quite popular among younger music fans. It is also very easy to learn on the ukulele as it only features four basic chords, G, Em, C and D.
Written by Ed Sheeran, I Don't Care is also very fun to play and learning it will help you build your chops for more complicated uke pieces. As a matter of fact, the chord progression employed here is also used in countless other songs. Learn it well as it is a great choice to add freshness to your easy uke song repertoire.
Wonderwall is arguably the most-played song from the 90s. This massive hit is a modern-day classic, and has remained one of the most popular songs for guitar covers for over 25 years. This song also fits nicely on the ukulele, and features easy chords and a simple progression.
Practice Resources
We are living in a great time to learn about a vast variety of topics. Learning ukulele is certainly one of them. There are seemingly endless resources, from apps to tutorials and everything in between. Naturally, some are better than others. 
One of the best tools you can get is Roadie Coach. Coach listens to your practice and provides you with customized feedback in an instant. This hardware and app combo will help you with chords, strumming, and song learning.
The hardware conveniently attaches to your uke and features a high-quality microphone to capture your playing. The app features a vast song library that gives you plenty of options to learn. Simply said one of the best and most comprehensive tools to help you become a better musician.
Advanced Song Tutorials
After you spend some time strumming and chords, the best way to keep learning the ukulele is by learning some advanced songs. Below is a list of songs that you can start working on. This is truly where the fun begins.
The songs above make up a fun repertoire that you can play alone or share with friends and family. Besides being fun, they also contain very valuable lessons and will help you tremendously in your journey of learning ukulele. 
Next Steps in Ukulele Learning
With time and dedication, you will likely want to move on to more challenging songs. Doing will so will increase your technique and overall ability on the instrument. At this stage, you can even move beyond just doing chords and strumming, to playing some single lines, intros, and interludes. Believe it or not, you will likely have even more fun! 
Naturally, in order to get to this stage, you will need to develop a practice routine and keep at it. 
Developing A Practice Routine
To truly make your practice sessions effective, focus on specificity and realism. Set measurable goals that match your current skill level. For instance, becoming a guitar virtuoso in eight months is an unrealistic target. However, mastering all modes of the harmonic minor scale in various positions within four months is attainable for some. Assess your abilities and available practice time realistically. Seeking guidance from a skilled guitar teacher will aid both improvement and goal assessment.
Maintain Focus
Whether it's 15 minutes or an hour, ensure your attention is exclusively on practice. Eliminate distractions—no phones or TV—while you're engaging with your instrument. Dedicate quality time to practicing for genuine enhancement.
Consistency Counts
Inconsistent practice, like 15 minutes on Monday and 10 minutes on Friday, won't yield results. Aim for daily practice or, if that's not feasible, commit to three to four sessions a week. Regularity is key; improvement follows consistent effort. Daily practice of 30 minutes surpasses sporadic three-hour sessions.
Flexibility and Enjoyment
Set a clear plan but allow for adaptability. Flexibility prevents frustration and burnout. Infuse fun into practice—experiment with new skills in practical contexts, like using a recently learned scale in online jamming sessions. Variety maintains engagement and reinforces learning.
Harness the Metronome
Embrace the metronome, a vital progress-tracking tool. Gradually increase tempo while maintaining precision in execution. Whether for all exercises or specific drills, incorporating the metronome enhances rhythmic accuracy and gradual skill improvement.
Establish Routine and Space
Designate a consistent practice time and place—even if it's just 15 minutes daily. Routine signals your brain that it's time to practice, creating a habit. Over time, this habit nurtures noticeable progress and forms an integral part of your daily routine.
Embrace the Journey
Recognize that practice is a lifelong pursuit. Formulating an effective year-long practice routine propels growth. Renowned guitarists invested intensive practice hours. Even if your goal is casual bar performances, practice is the gateway. For aspiring virtuosos, plan for rigorous daily practice over years for substantial mastery.
Read more here.
You can even delve into more advanced concepts like alternate tunings and songwriting. Although this will be very exciting, it may also come with the inevitable self-doubt and even frustration that most proficient musicians experience. It is key to understand those bad days will happen every so often, so you can keep at it. 
Recording
Recording yourself is one of the most effective and fun things you can do for your playing. You will hear exactly what you sound like and what your trouble spots are. This is one of the most direct ways to truly zoom in on the areas of your playing that need work. Perhaps it is changing to a certain chord on a song, or maybe your strumming is a bit rushed. Whatever the case may be, recording yourself will reveal it. 
With time, you can also start recording your own songs, or even covers to share on your YouTube channel and other social media outlets. 
The great thing about recording today is that it is relatively inexpensive. You can get the basic recording equipment you need without having to spend a lot. Alternatively, you can invest in the Roadie Coach hardware for an all-in-one solution that help you learn uke, record your performances and provide insights on each.
We hope that you use this Learning Ukulele guide to the best of your ability. Think of it as a first step into the wonderful joy that playing the uke can bring. Besides being a super fun and exciting endeavor, playing music is a fantastic brain exercise and helps keep you youthful and energized. Please leave us a comment below and tell us how your ukelele playing goes.