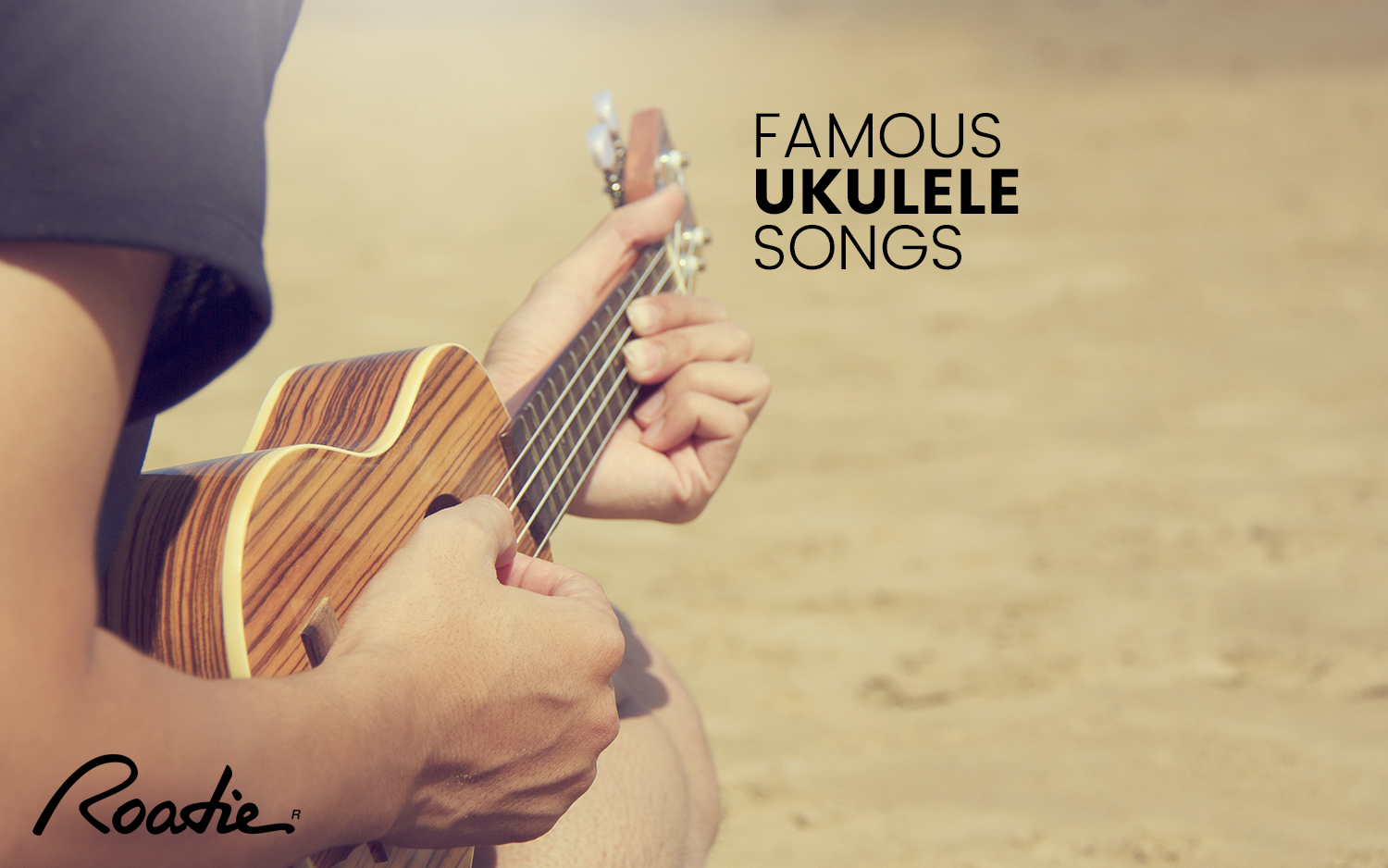 Developed in Hawaii during the 19th century, the ukulele has been riding a big wave of popularity since the 1990s. With its cheerful sound, unintimidating size, and just four (or five!) strings to master (depending on the type of Uke you have, of course) it's easy to see why learning to play popular songs on the ukulele has become such a major trend around the world!
There are endless tutorials on just about any song you can think of. However, some songs rise above the rest as they are known the world over. This list is compiled of the best-known uke songs.
So let's take a look at the 10 Famous Ukulele Songs That You Can Learn.
"Somewhere Over the Rainbow"
The album Facing Future by Hawaiian musician Israel "Iz" Kaʻanoʻi Kamakawiwoʻole came out in 1993, unleashing the catchy, reggae-infused medley of "Somewhere Over the Rainbow" and "What a Wonderful World" that set today's ukulele wave in motion. Its appearance in a plethora of movies, TV series, and commercials helped propel the medley as well as the much-cherished ode to rainbows to the top of the list of most popular ukulele songs ever. Perhaps the most famous of the 10 most famous ukulele songs.
Further Reading – How to Play Somewhere Over the Rainbow on Ukulele
"Can't Help Falling in Love"
Originally featured in the 1961 Elvis Presley romantic comedy Blue Hawaii, the song "Can't Help Falling in Love" joined the pantheon of most beloved ukulele songs after Twenty One Pilots released their endearing ukulele cover video of it in 2012. "Can't Help Falling in Love" is considered by many as the ultimate ukulele song. Definitely a must know for any uke player. 
"Sunday Morning"
For those who have picked up the ukulele because it is so easy to learn, upbeat popular songs with simple chord structures are great options to start with. So Maroon 5's irresistible three-chord pop hit "Sunday Morning" perfectly fits the bill.
Since You're Here…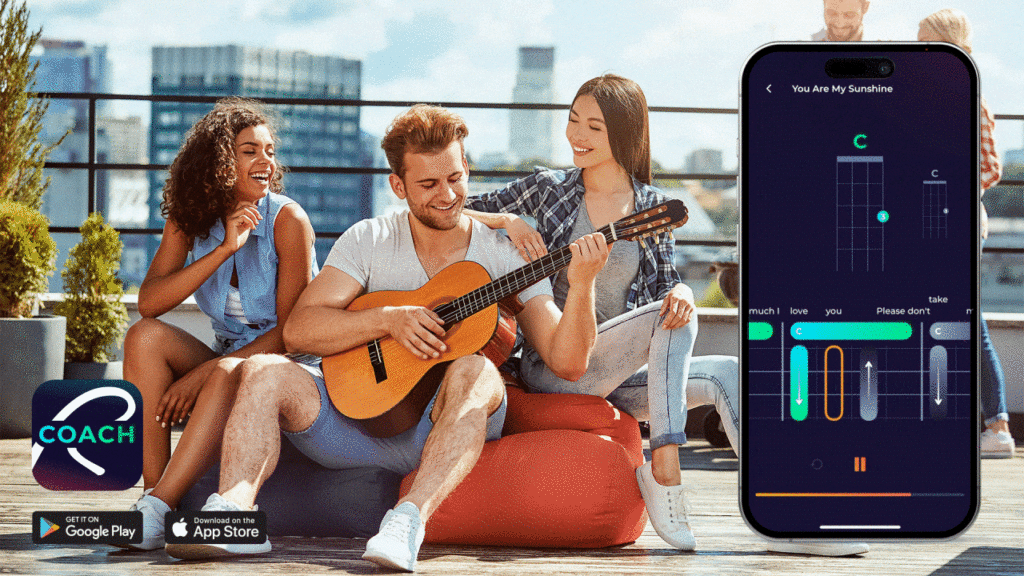 Fast-track your guitar learning journey, with the Roadie Coach App by Roadie Music. (iOS | Android)
This is the first and only AI-based guitar and ukulele learning app that listens to you play and guides you with customized feedback, just like a music teacher would. Coach will mainly help you :
Discover & master ANY chord
Practice strumming patterns
Learn any song from scratch & at your OWN pace
Get personalized feedback on skills that need improvement
"Hey Jude"
This enduring Beatles ballad has a few more than three chords to it (there are 12, for those who are counting); but it's more than worth the effort to learn. "Hey Jude" is just one of those songs that everybody recognizes and enjoys singing along with at gatherings of family and friends. Paul McCartney created a masterpiece with this song. 
"No Woman, No Cry"
There's no doubt that YouTube has been a big part of the current ukulele renaissance; with helpful tutorials like this one for Bob Marley's iconic "No Woman, No Cry." After all, the ukulele is well suited for the syncopated beats and lilting melodies of reggae music.
 "Losing My Religion"
Built on a haunting mandolin riff, R.E.M.'s 1991 surprise hit "Losing My Religion" is another great song that translates well to the ukulele. In fact, the ukulele is an excellent first stepping stone to learning the more difficult-to-play mandolin. In any case, "Losing My Religion" is another one of those anthems from the 90's but that has grown into a world classic song. 
"Dream a Little Dream of Me"
"Dream a Little Dream of Me" is a popular standard that dates back to 1931; and is yet another example of a song that seems custom made for the ukulele. Eddie Vedder even closes out his amazing Ukulele Songs album with this fun little gem!
"Havana"
One of the most recent songs on this list and a worldwide hit. This song is simple yet quite catchy. It features simple chords and an easy strumming pattern. Think of "Havana" as a modern classic, and one that is sure to please the younger folks in the crowd. This Camila Cabello song is as fun to learn as it is to play. 
"Perfect"
A beautiful song by Ed Sheeran. Besides being a worldwide hit, "Perfect" has also become a common song for weddings, particularly for when the bride comes in. Even at more modest levels, this is a great song to play for that special someone in your life. This song features a nice yet simple harmony and common strum pattern as well. 
"Wonderwall"
The ultimate song of the '90s! "Wonderwall" is one of the most played songs to this day, particularly among acoustic guitar players and uke players. With just a few chords, this song has that special something that transcends genres and time. 
Noel Gallaghar delivered a career-changing song for him and his band Oasis, one that still resounds today. Definitely a great tune to have in your repertoire. 
That's it! These are 10 Famous Ukulele Songs That You Can Learn. 
Learning these songs will greatly help you become better at the uke. Besides having fun and learning new material, each of these songs has specific problems that when conquered will make you a stronger player. In other words, you can think of each of the tunes above as a stepping stone in this journey. Remember to practice and dedicate some daily time to learning the uke. 
Bonus Songs