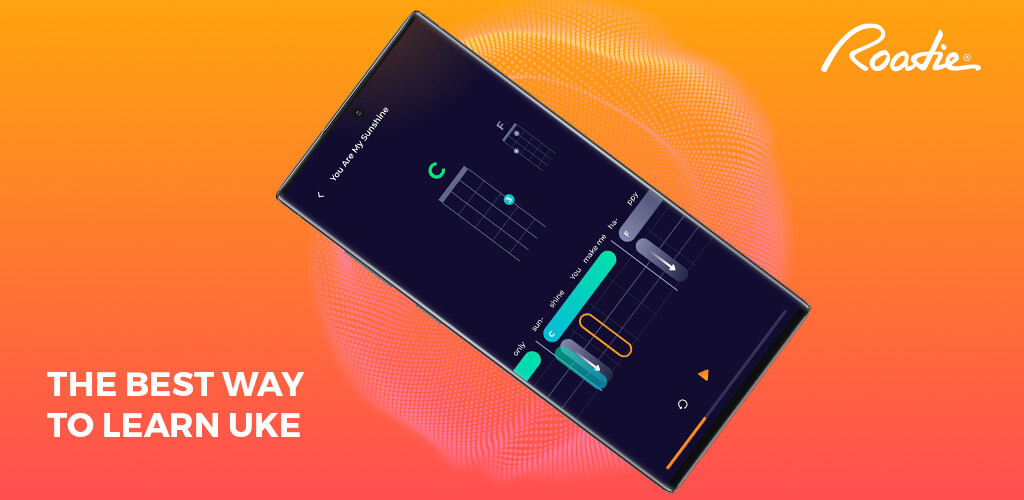 Wouldn't it be awesome if an app could listen to you play and coach you to learn your favorite songs on the Uke? That's exactly what Roadie Coach ( IOS | Android ) does. 
Roadie Coach is the first and only app that listens to you practice and guides you with customized feedback. This app will help you hit the perfect chords, keep a tight rhythm and eventually play the song in full. Solid.
It is a fast and easy way to learn, practice, and master the ukulele while having fun in the process.
Our app's simple interface will make you a ukulele expert in no time and we are always adding more tracks to learn.
Who Is It For?
Roadie Coach ( IOS | Android ) has been developed by a team of experienced musicians. It is ideal for self-learning or to practice while learning with a teacher. If you are any of the below, then this app is definitely for you: 
Ukulele player
Complete beginner
Intermediate or advanced player
Music teacher
Pick Your Favorite Song To Learn
Roadie Coach is equipped with ukulele classics you can choose from such as Let It Be, Somewhere Over The Rainbow, I Will Wait & more…  [We will continue to grow our library based on our users' requests, so be sure to send us yours!]
Similar – Now available on iOS & Android: Free Roadie Tuner app
Practice & Perfect Your Chords
For every chord in the song, this app will:
Show you exactly how to position your fingers on the fretboard.

Listen to you strum each chord and give you instant feedback on the accuracy of the notes.

Challenge you to perfect the chord fully before you can move on to the next one.
By the time you are done practicing chords, you should have no trouble remembering them. Most importantly, you'll have picked up the perfect fretting technique.  
Practice Strum Patterns
The next step will be to set the tempo and start practicing your strumming!
Record yourself as you strum along with the on-screen guide.

Turn on the reference track while playing for even more guidance.

Once you are comfortable, increase the tempo and see if you can still strum correctly while playing at the original tempo of the song.
Practice the Whole Song
Now put it all together and hear the song take shape!
Adjust the tempo to your liking.
Record yourself practicing the song.
The lyrics of the songs are displayed to make singing along easy.
Playback your practice sessions to hear yourself progress.
Get your overall s

core, your rhythm score and your chords score to know what you need to practice the most.
Level Up
Roadie Coach ( IOS | Android ) makes it fun to learn new songs and helps you progress one level at a time. 
You will start at Level 1 and once you get a 90+ score you can advance to Level 2. At this level, some of the chords are present without their tabs. Then, if you are still able to achieve a score above 90, you can move on to Level 3 and so on! 
What's in Level 3? Become a uke pro and find out!
Download Roadie Coach ( IOS | Android) and tell us what you think.
Further Reading – Play Better Ukulele TODAY! Roadie's tips for learning uke