The Seven Best Guitar Apps Of 2020
by Rodrigo Sanchez, Dec 11, 2020 . 4 min read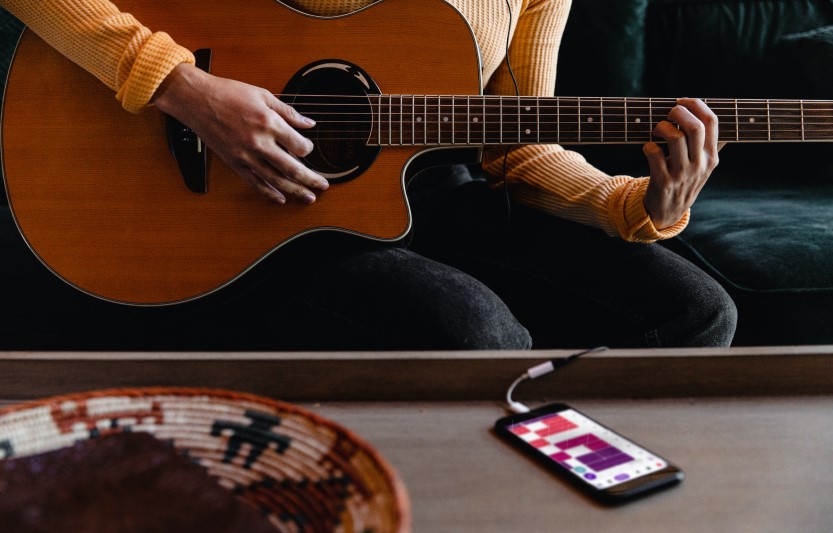 The seven best guitar apps of 2020 will be of great use for most guitarists. Even though we faced unparalleled challenges this year, creators did their thing and provided value in 2020.
This is true not only in the field of music but also in technology. This year we saw a plethora of useful apps hit the market, including guitar apps. Besides being helpful, these guitar apps are also fun to use. Here are the seven best guitar apps of 2020. 
This app is really useful if you have an instrument adapter. You will turn your phone or tablet into an amp with the use of a smartphone-compatible jack that you plug into your guitar. PocketAmp offers four amplifiers on its interface, as well as seven guitar effects pedals and four cabinets. It is a good way to start learning about how to effectively combine and use these items. It is also a great way to have an "amplifier" on the go so you can play anywhere.
Our very own Roadie Tuner App allow you to tune for a variety of instruments and alternate tunings. You can also tune to a Full Step Down, All Fourths, Low C, Nick Drake Tuning and more. It makes tuning your instrument seamless. You can download new tunings as they become available or even suggest your own custom tuning. It is compatible with iOS and Android. 
This app is quite useful for performing guitarists. OnSong allows you to store music charts and access them easily. It is compatible with Dropbox and Cloud, so the transfer of music charts can be done seamlessly. You can also combine OnSong with a foot pedal in order to scroll down your charts without the need to use your hands. Turn your tablet into a massive library of charts with OnSong.
This app lets the guitarist learn songs in an interactive way. You can choose to see tablature, slash notation, or even a classic fretboard view. Play Guitar Hits' dual-screen function allows you to see the interactive tablature on one side and a play-trough video of our chosen song on the other side of your screen. A fun method for learning songs.
As the name implies, Fret Trainer will train your brain and hands to use the fretboard. This app was designed for beginners and uses different sets of methods to help you understand the basics of the fretboard. For instance, you can use its color match mode that highlights what you need to play. It is a fun way to learn, especially for the younger generation.
This app is ideal for beginners that need step-by-step lessons. The scope of lessons on Justin Guitar covers a wide array of topics, from basic chords to learning scales. Justin Guitar includes over 1000 popular songs to learn as well as a self-assessment monitoring system that tracks the progress the user makes. 
This app is ideal for songwriters and guitarists that want to hear what they sound like. Painful as it may be, listening back to yourself playing is one of the most revealing exercises for a guitarist. This is a great way to track your progress, as this app will show the date on which the recording was made. Voice Recorder also is great for when inspiration strikes. If you come up with a killer distorted riff at midnight, don't waste any time plugging into your interface and setting levels. Just pick up your phone and conveniently document it on Voice Recorder.
Take a look at the apps above as many of them can be exactly what you need at this point. Go even further and look at the best guitar apps of 2019. Also, check out some websites and other resources that might be useful for your practice and guitar journey. Find what works for you and start having some fun while getting better at guitar. Are there any apps that you use that are not listed here? Feel free to share them with us in the comment section below. 
Get our free Alternate Tunings Guide!