Top Five Grooviest Bass Lines of All Time
by Rodrigo Sanchez, Aug 2, 2020 . 4 min read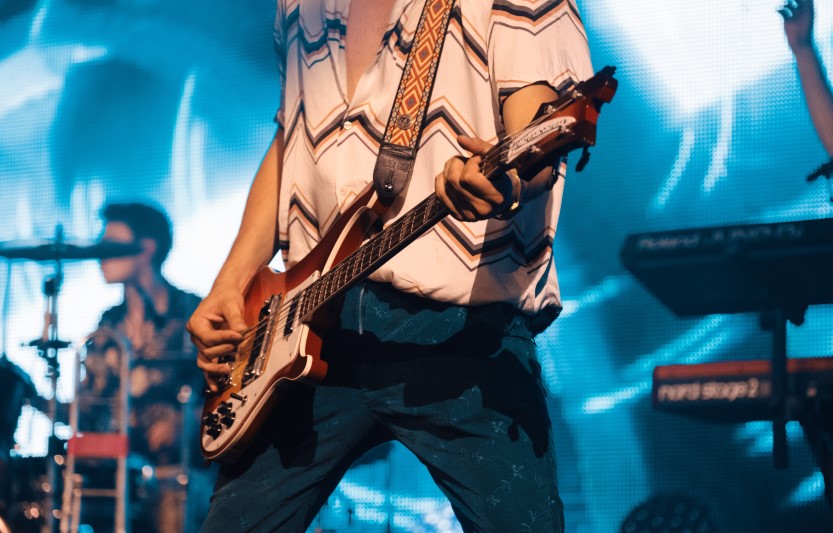 The bass might be the most underrated instrument in the band. It might also be the most important. Don't believe me? If the guitar player, drummer, keyboardist, or singer makes a mistake, you might not even notice.
However, if the bass player lands on a wrong note… you'll have the whole band give him a dirty look. Muting the bass unexpectedly will feel like someone took the oxygen from the room. Make no mistake: the bass is the life of the band. It can make or break a song. And it can be oh so groovy. A good bass line will pack a dance floor in no time. It will make you bob your head and tap your foot fast. Here are the top five grooviest bass lines of all time. 
¡Talk about groove! I even had to stop writing to shake my booty just a bit. Bernard Edwards was pure magic on the bass. His playing has influenced generations of bassists. This song is so funky, and the main reason for that is the bassline. "Good Times" is one of those anthems of funk, not only for the bassists, but also for guitarists, and producers in general. This is as groovy as they come. 
James Jamerson might be the grooviest bass player to ever walk the earth. If you are an aspiring bassist, you have to learn this bass line. You should also study James Jamerson as if your groove depended on it. He was the premier bassist of the Motown era. "Ain't No Mountain High Enough" is a masterclass in feel and groove. Take your time and really listen to this one, as well as all the substantial body of work from James Jamerson. 
John Deacon's playing was so on point. The Queen bassist really knew how to come up with a simple, groovy, solid bass line. "Another One Bites the Dust" is one of them. It makes the song unmistakable and memorable, and at the same time it is one of those easy bass lines to learn. Right along with "Under Pressure", "Another One Bites The Dust" has a bass line for the ages. Yup, he probably listened to a lot of Bernard Edwards as well. 
Flea would probably make any list of grooviest bass players alive today. The bass line in "Give it Away" was that initial hook that made the song recognizable from the start. It fits so well with the attitude of the song and the band and makes you wanna drop everything and start dancing full of joy. This song arguably made the Red Hot Chilli Peppers household names. 
You can't talk electric bass and leave Jaco Pastorious out. His playing on "Come On Come Over" is nothing short of perfect. Jaco marks a before and after for the bass. His groove is very unique and "Come On Come Over" is just one of many of his legendary bass lines. Jaco always worked with the best musicians, and this track features Herbie Hancock on keys and The Brecker Brothers on brass. 
It is almost criminal to pick just five of the grooviest bass lines of all time. I could have come up with 500 of them, and still not be done. However, the ones above represent a good partial list to get your groove going on any given day. Do yourself a favor and listen to the body of work of the bass players mentioned above. But don't stop there! There are so many more great bass lines. Feel free to leave us a comment with your favorite, grooviest bassline of all time.
Get our free Alternate Tunings Guide!