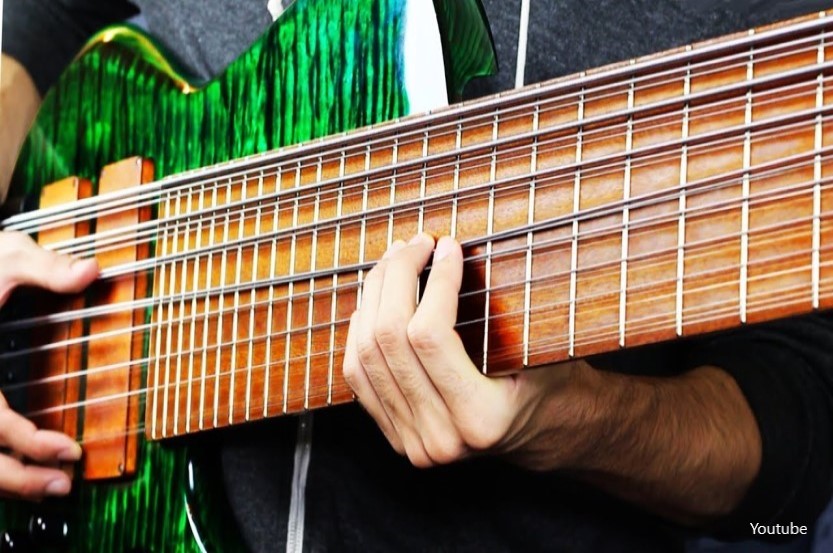 Tuning a 24 String Bass…How long does it take?!
For some people, it's quite difficult to tune an instrument even with the use of a tuner. That's why the automatic Roadie Tuners are, hands down, the best tuners you can buy on the market for your guitars and basses.
Combined with the Free Roadie Tuner app, the possibilities are limitless. You can customize your tunings, create/store instruments, and explore a multitude of alternate tuning to play around with. In this article, we will discuss tuning a 24 String bass based off a video from Youtuber and phenomenal bass player, Davie504.
So, How Long Does it Take to tune a 24 string bass guitar?
Further Reading – Strange Strings From Around the World
Tuning a 24 string bass guitar
Davide Biale, commonly referred to as Davie504, is an Italian Youtuber/bass player with crazy chops and comical videos. A little over a year ago, Davie504 got his hands on a 24 string bass designed by Christopher Cardone. Not only is this bass quite an obstacle to learn, but it's also a difficult instrument to tune.
…And you thought your 12-string guitar was difficult.
From the lowest string to the highest, the 24 string bass is tuned: F# B E A D G C F. Each set of notes requires 3 strings per note.
Check out Davie504 tuning the 24 string bass:
Davie ends up spending close to 6 minutes tuning the bass which is actually quite impressive considering that each 8 set of notes requires 3 strings per note. I personally know people that struggle tuning their 6-string guitars for longer than 6 minutes.
Let's hear him jam out on this thing:
Further Reading – Playing the Fretless Guitar feat. Bumblefoot
Using the Roadie
On average, the Roadie Tuners are able to tune your guitar or bass strings at approximately 5 seconds or less with just a couple plucks of the string. So how long would it take to tune a 24 string bass knowing this information?
Since there are 24 strings on this monster of a bass, let's assume it takes 5 seconds to tune each string using the Roadie Bass Tuner. We can then figure out that 5 seconds per string will bring us at about 2 mins. With the Roadie Tuner, we have cut off around 4 min to tune 24 strings! That's a huge deal. It's crazy actually.
Similar – The Complete Guide to Guitar Tuning
What Are You Waiting for Now?
So, what are you waiting for? With the Roadie Tuners, your life will become immensely easier for tuning your guitar in whatever tuning you want automatically without the hassle of tuning by hand and straining your brain. That's what practice is for, isn't it?

Check out more Davie504 content on his Youtube channel by clicking here.
For more information about the creator of this massive bass, Christopher Cardone, check out his Twitter feeds here.
We hope you guys enjoyed Tuning a 24 string bass guitar with Davie504 and be sure to make life easier with Roadie2, and RoadieBass!
Further Reading – Looking for Alternate Tunings?