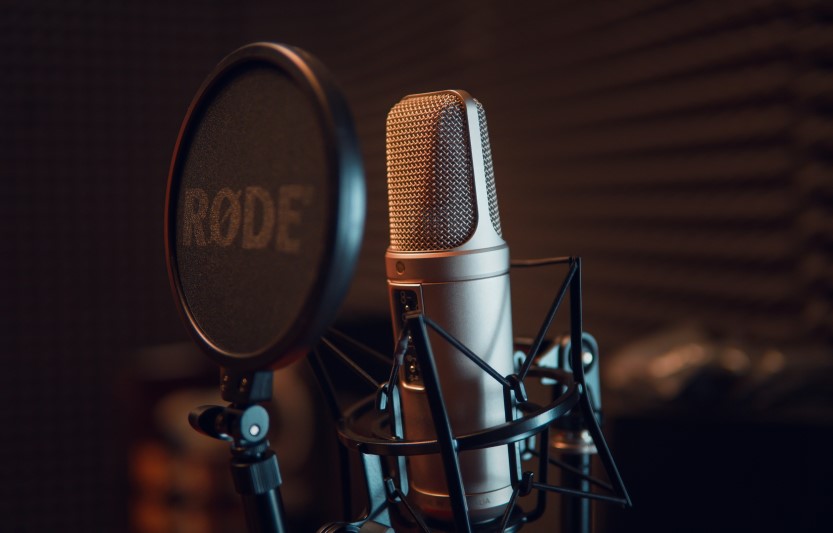 In this list of best of best mics for music recording, we bring you an array of good choices.
Microphones can be dynamic, condensers and ribbons. The first ones are used mostly for the stage, while the other two are typical in the studio. 
Condensers are particularly popular for the studio. In any case, there are plenty of choices, and the best one depends on what your needs are.
In this list, we provided a bit of everything for everybody, from affordable microphones to famous ones. Without further ado, here are the best mics for music recording.
The Blue Yeti is a USB microphone that's convenient, good and inexpensive. What a trio! 
With this microphone, you can plug it directly into your computer, without the need to buy an audio interface. 
This microphone comes with its own mini stand to place on your desk. Besides recording singers, you can also use this mic for podcasting, general calls, video conferences and more, all of it with good quality for the money.
Although not strictly a microphone, Coach is a tool for improving and recording, which features a high-quality mic.
This fantastic device attaches to your instrument of choice and can help you become a better musician. Whether you are a guitarist, singer, ukelele player, etc, you can grow immensely with this tool. 
Coach offers personalized feedback and exercises to help you get better, as well as a high-quality recording feature that permits you to get insights into your progress. 
Roadie Coach uses audio match algorithms to detect when you have played a song you are working on and intelligently stores the recording with others like it. This lets you look through your play history of any given track and hear how you have progressed over time.
Shure SM58 is one of the most famous microphones in history, with a reputation that is beyond legendary. These mics have been used extensively by everyone from beginners to professionals.
As a matter of fact, the engineers of U2, among many other bands, have been known to use an SM58 for recording various sources in the studio.  
Although mostly a stage microphone, the Shure SM58 is one the best mics a beginner can start out with. You can use it in the studio to record vocals and even guitar. 
Besides being affordable, this microphone features a solid design and is not as sensitive as condensers. Additionally, it comes from one of the most respected brands in the business. 
The Audio-Technica AT2035 is an excellent choice for anyone who wants to upgrade from a USB mic to an XLR setup. This condenser mic delivers clarity on recordings, with a focus on clean vocal recordings.
Condenser microphones are far more sensitive and substantially more complex than dynamic mics but are the preferred tool for the studio. This is true for professional or beginner studios.
Although this microphone is considered affordable for a condenser, it rivals more expensive models with a neutral and clean sound.
The AT2035 features a large diaphragm for natural sound pickup and can work very well on many sources. With this mic, you can record vocals, guitars, electric guitars, bass, mandolin, and just about anything else you can fit into a home studio.
The MXL 990 is a condenser mic that's developed a reputation for being great for beginners. If you are on a budget, but still want to get a crisp recording from a condenser mic, this is a great option.
The MXL 990 is a nice choice, whether you are starting out with your home recording studio or just want an inexpensive mic that offers a great cost-benefit ratio.
This affordable alternative to a high-end condenser lets you capture the sound of the human voice well. As a matter of fact, this microphone is also known to be a popular choice for podcasting, voiceovers, and other spoken word applications.
Naturally, it also does a good job of capturing singers, guitars, and more. In short, the MXL 990 gives you a rich tone that is also warm and well-balanced. It's a condenser mic that's made to last, and is a cost-efficient choice for beginners.
Neumann is arguably the most famous, revered and respected microphone brand in history. These mics have been used in countless legendary recordings over the years, capturing the voice of icons from Jimi Hendrix to Paul McCartney.
The Neumann TLM 102 is one of the most affordable mics this company produces. Naturally, "affordable" for a company that makes microphones that cost 10000 Dollars is still going to be pricey for many.
Nevertheless, you can have one of the best mics on the market for under 1000 Dollars with the Neumann TLM 102. 
This microphone offers crystal clear reproduction across the frequency range, and will likely sound magical in your mixes. 
Whether you are recording vocals, acoustic guitars, electric guitars, and more, this microphone is one of the very best at this price range. 
Up to this point, almost all the mics on this list have been condensers (with the exception of the Shure SM58, which is dynamic). 
However, this list would not be complete without a ribbon mic. 
Ribbon microphones are arguably the most natural mics that you can use to capture the sound of an instrument or voice. These mics are even more sensitive than condensers. 
So what's there not to like? Well, besides being more prone to damage, it is a bit more challenging to find affordable ribbon mics.
In any case, the Rode NTR offers you a naturally smooth and silky sound, especially on vocals. It is finesse at its best, for less than a grand. It connects just like you would any other condenser and does a fantastic job at capturing many instruments or sources. 
This list of best of best mics for music recording features some of the best-known brands in audio. Whether you only have a computer and want to get started with recording, or you are ready to spend a month's worth of rent on a high-quality mic, you will find a model for you in this list.
Remember, learning to record music well also takes practice, but it can be quite fun. Let us know if you already have a favorite mic in the comment section below.