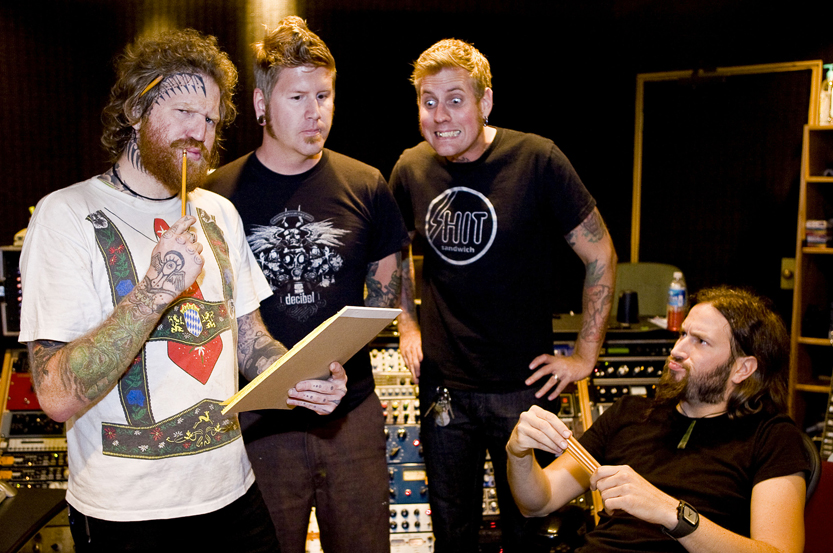 Mastodon is a heavy metal guitar masterclass! In the past twenty years or so, Brent Hinds and Bill Kelliher have written some of the most interesting and infectious riffs in heavy music. Some of them are in "best metal riff ever" territory, and if you're looking to learn heavy metal rhythm guitar, you need to check them out.
So, with that in mind, grab your Bill Kelliher LTD Sparrowhawk or your Brent Hinds Epiphone Flying V Custom and let's get riffing!
Mastodon: 3 Epic Riffs #1: Sultan's Curse
2017's "Emperor of Sand" album ranks as one of Mastodon's finest offerings. And, opening track "Sultan's Curse" is a monolith pretty much from the get go.
Bill Kelliher's opening riff is a gnarly beast – a deceptively complex gut punch that sets the tone for the album rather nicely. As the man himself noted to Guitar World:
"I've had that riff hanging around for probably six years… It didn't have any friends. It was just a lone wolf. So I had that riff, and then I had the last riff, and then I had the bridge. But it needed time to come together. The riff was f–king awesome, but I just couldn't get the verses or the chorus. But you know, you can't force things. Even if you have a sick riff, you need the rest. That one took time to take shape, but it turned into a great song to start the album with."
Check out the tab here.
Curl of the Burl
Mastodon has made great use of Drop-A tuning during their career. For a shining example, check out the heavy, yet oh-so slinky "Curl of the Burl" from 2011's "The Hunter" album. It's the sound of cavemen forming a classic rock band. That's a good thing, by the way.
"I really didn't approach "The Hunter" any different than our previous albums. We just decided—like we always do—to write and record a cool album that's badass, and to do the best we can. I play guitar so much in Mastodon and my other bands that I don't really block out time to write—if something comes to me while I'm jamming and it sticks with me, I'll generally try recording it. But if I forget the riff or idea, then it probably wasn't meant to be."
Brent Hinds on writing for "The Hunter" (via Premier Guitar)
Check out the tab here.
Blood and Thunder
"The story of Moby Dick paralleled the lives of the four dudes in Mastodon so much, it was too easy for us to pick and pull similarities to Captain Ahab's character and the pursuit of the whale, and the dedication, persistence and sacrifice… The longevity of his trip was almost like what we've done in our band for the past five years. So we just thought it would be cool to do something themed-not a direct concept album- but something themed with water and creatures, which we're all fascinated with."
Troy Sanders on the writing of "Leviathan" (via SlugMag – https://www.slugmag.com/music-features/split-your-lungs-with-blood-and-thunder-mastodon-has-the-ability-to-rule-us-all/)
Mastodon made their mark on the metal scene with 2004's "Leviathan." It was the moment the band dropped the concept album, based on Moby Dick, that the public realized they weren't your run-of-the-mill metal act.
And, what better way to introduce that album than with what is probably the band's signature riff: "Blood and Thunder." Crushing, epic and downright mean sounding, it was an instant classic in 2004 and remains so to this day.
Check out the tab here.
What are your favorite of Mastodon: 3 Epic Riffs? Let us know in the comments!
Further Readings – This Week Roadie Loves: Halestorm – "Vicious"