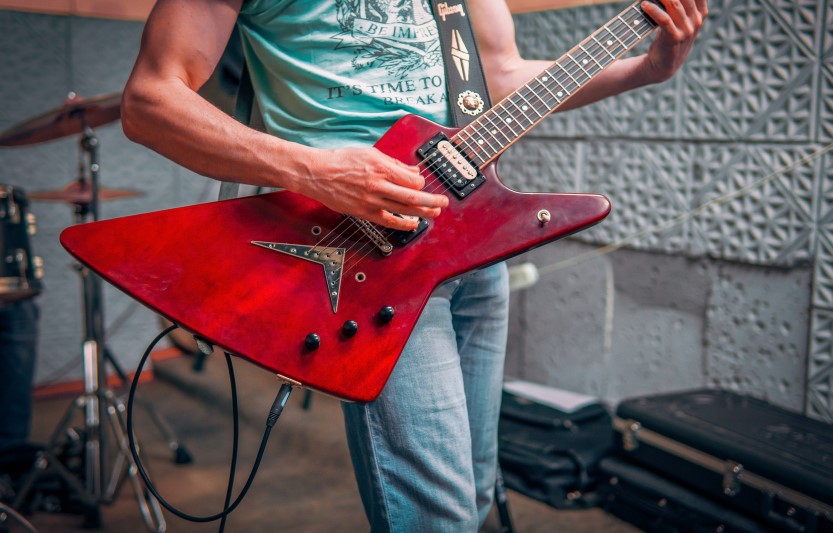 These ten easy guitar riffs for beginners are featured in some of the rock-n-roll anthems. Despite being easy, these classic riffs could be considered masterpieces.
After all, how does one create something so simple yet immortal? Perhaps they became transcendental because they stick to the ear in a way that is unique and easy to remember. These riffs have defined bands, careers, and eras.
In any case, they are also a great place to start. In addition to learning them, check out Roadie Coach. Coach can be of great help in your musical journey. It allows you to record your performances, document your progress, and can give you personalized feedback on your practice sessions.
With no further ado, here are the ten easy guitar riffs for beginners.
Many new bands have started by learning this riff. As a matter of fact, Smoke on the Water is still one of the first songs that electric guitar players learn.
Without a question, it's the most famous Deep Purple song. Composed of a series of easy double stops, this riff is comfortable to play. 
Originally recorded by the legendary Ritchie Blackmore riff, this song was released in 1973 and is one of the most enduring rock classics ever. It remains one of the best easy guitar riffs to learn today.
This is the riff that kickstarted a new style called grunge in 1991. It is composed of a series of muted bar chords by Kurt Cobain. Interestingly, it does not involve any melodic lines as riffs typically do.
Even so, it set off a process that put Seatle rock on top of the world. 
Smells Like Teen Spirit is the most famous Nirvana song and its riff is still very popular among guitarists.
This definitive song by Black Sabbath features the immortal riff by the amazing Tommy Iommi. Simple as it is, it is likely the best-known Heavy Metal riff ever. 
With just a few power chords, Iron Man is considered by many as one of the paradigm songs of Metal. 
Recorded in 1970, it still sounds sinister and with wicked darkness to it. It is another famous riff to learn by beginners as it is relatively easy and sounds so incredible.
The Rolling Stones are often heralded as the greatest rock n roll band of all time. With songs (I can't get no) Satisfaction, it is easy to see why.
A simple yet incredibly driving riff by the iconic Keith Richards. Composed of just two bars of mostly single lines, this is also a go-to riff for beginner guitar players.
That said, even professional guitarists can learn a lot from the simplicity in this musical phrase, which contains so much punch. Released in 1965, "(I can't get no) Satisfaction" is one of the Rolling Stones' most legendary songs. From bar one, you hear that simple yet unforgettable riff. 
Few riffs are as strong and lasting as Back in Black's. Conceived and recorded by guitar legend Angus Young, it combines a few chords with two separate phrases.
This riff comes from AC/DC's biggest song and biggest album, also called Back In Black. This album is one of the best-selling records ever and is considered a must-have for any guitarist.  
This riff is commonly thought to beginner guitarists, as it is very effective and tons of fun as well.
Another incredible riff by Black Sabbath. This one is also very easy to learn, as you basically don't have to move your hand from the fret position. 
Paranoid is a staple of early heavy metal and a great example of how guitar hero Tommy Iommi was able to turn simple ideas into unforgettable songs. In short, a must-know riff for any beginner rock guitarist. 
Jimmy Page came up with this riff in the late sixties and it remains one of the staples of rock. Whole Lotta Love is one of Led Zepellin's most beloved songs and a great deal of that success lies in its killer riff. Recorded in 1969, this classic rock anthem remains one of the most requested. As a result, its relatively easy riff is still one that appeals to beginner guitarists everywhere.
Jimi Hendrix is regarded by many as the greatest electric guitar player to ever live. Interestingly, he was not the most technically proficient, and many of his riff are quite simple. 
Purple Haze is a classic rock song that features an easy riff. It has become a standard tune and is a great one to learn. 
Released in 1967, "Purple Haze" is one of Jimi Hendrix's most legendary pieces. Artists of all types have performed it live, from Joe Satriani all the way to Sting. 
A simple yet hypnotic riff that conquered the world. Come As You Are is one of Nirvana's most played songs. It features a simple riff that is based on playing one string at a time. Despite how easy it is, this riff is also very catchy and stays with the listener long afterward.
Come As You Are was included in the seminal Nirvana album Nevermind, and is still a popular choice among many beginner guitar players. 
Kirk Hammett and James Hetfield are one of the most renowned guitar teams in history. The Enter Sandman riff is further proof of that. 
This song is as heavy as it can be, but with a massive appeal that pushed Metallica into the mainstream. 
Just like all the others in this list, the Enter Sandman riff is instantly recognizable. It has that perfect combination of simplicity and power.
Included in the 1991 album Metallica (often referred to as the Black Album), this song and riff have a special place in rock. 
These ten easy guitar riffs for beginners provide quite an education. With each one you learn, you will be training your hands and brain to play. This is a very powerful process. Make sure you go slow and stay very patient. 
Remember to have fun every step of the way. With these killer riffs, I'm sure you're going to have a blast.